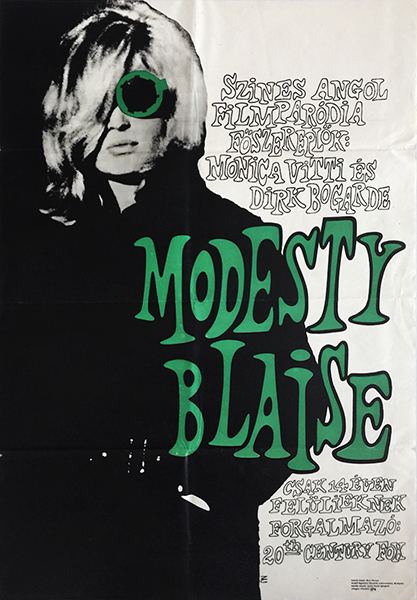 Modesty Blaise
Hungarian title:
Modesty Blaise
Artist:
Size:
Zelenák, Crescencia
A1 1 Sheet (cca. 55 x 84 cm)
Year:
Condition:
1970
Fine, light fold marks.
Material:
Paper, intaglio.
Price: $500
Description:
Poster for the first release of the movie in Hungary.
Modesty Blaise is a comedic spy-fi DeLuxe Color film produced in the United Kingdom and released worldwide in 1966. The film was directed by Joseph Losey and stars Italian actress Monica Vitti, Terence Stamp, Dirk Bogarde, Harry Andrews, Michael Craig and Clive Revill.
A beautiful former criminal named Modesty (Monica Vitti) decides to go straight and so begins working for the Secret Service, which sends her to infiltrate a ring of jewel thieves. But soon after she joins the gang, dangerous head crook Gabriel (Dirk Bogarde) grows suspicious of his new recruit, and Modesty realizes that British Intelligence gave her a mission she wasn't meant to survive. She then enlists her former partner in crime, Willie (Terence Stamp), to help her outwit both sides.
The designer used the technique of burnt photography which was introduced by József Finta. This technique, the over-exposure of the pictures resulted in a very strong contrast which provided a highly decorative and artistic effect. The playful typography and the use of green colour makes the composition even more eye-catching.