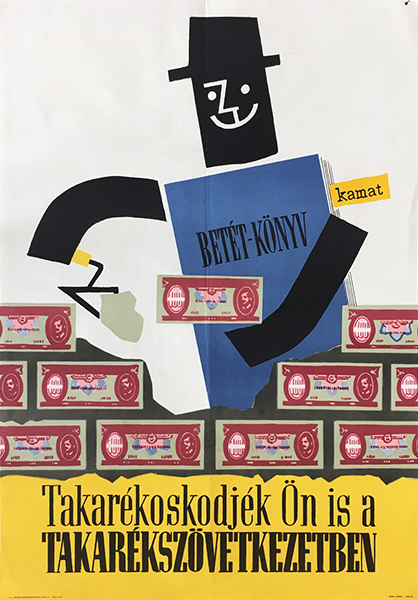 Save up your money in the savings bank
Hungarian title:
Takarékoskodjék Ön is a takarékszövetkezetben
Artist:
Size:
Bottlik, József
B2 (cca. 50 x 70 cm)
Year:
Condition:
1960
Fine.
Material:
Paper, offset.
Price: $200
Description:
Playful and decorative poster for a bank, from the 1960s by Jozsef Bottlik.
The old banknote of 100 Hungarian Forint is represented on the poster, the banknotes serve as bricks in a wall. Thee figure has 'bond' written on his shirt and a yellow tag says 'interest'. This a clear association: if you save your money in bonds. you'll build a new house from the interest.