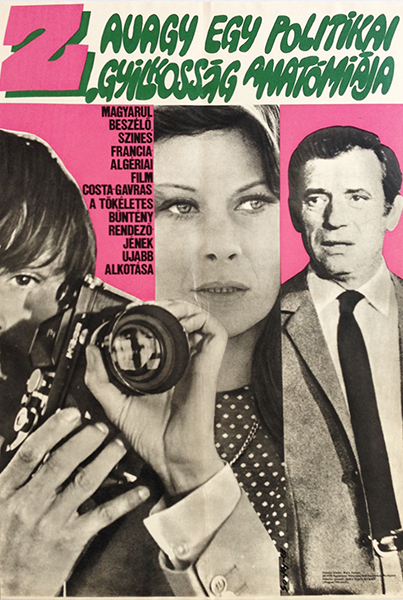 Z - Anatomy of a Political Murder
Hungarian title:
Egy politikai gyilkosság anatómiája
Artist:
Size:
So-Ky
A2 1/2 Sheet (cca. 42 x 59 cm)
Year:
Condition:
1969
Fine.
Material:
Paper, offset.
Price: $160
Description:
First release Hungarian poster for a French movie by Costa-Gavras.
The poster was designed by the artist couple So-Ky; it is a decorative composition based on the contrast of vivid colours and black and white photomontage. The movie featured no smaller stars than Yves Montand, Irene Papas and Jean-Louis Trintignant.
In a mid-sized metropolis (population 500,000) in a right-wing military led country, a pacifist organization, which supports the opposition party in the government, is planning on holding an anti-military, nuclear disarmament rally. The organization's charismatic leader - the deputy - is scheduled to arrive in the town from the capital the day of the rally. Beyond the problems arranging the rally due to the probable incitement of violence at such a rally, the organization learns of an unconfirmed report that there will be an attempt on the deputy's life. The rally does happen, after which a three-wheeled kamikaze runs over the deputy, who eventually passes away from his injuries. The official report is that the incident was a drunken accident. In reality, the deputy's death was murder orchestrated by the secret police, the general for who likens the pacifist organization to mildew killing off agricultural crops. A magistrate is assigned to the case. (source:imdb.com)