Kádár Katalin
1951 -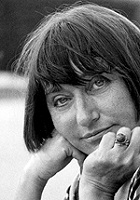 Kádár, Katalin
Kádár is a graphic designer, who started her career in the 1970's.
She is the daughter of György Kádár and Mária Túry. She has been working in many fields of graphic design, designing emblems, posters, illustrations, exhibition designs, television film sets, etc.
Her posters are photo-based works or painted compositions.
Since the 1980's she has been focusing on making autonomous graphic works. .