Jeges Ernő
1898 - 1956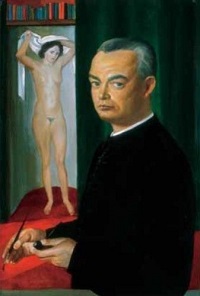 Ernő Jeges (source: artline.hu)
Jeges was a poster designer and painter, working between the 1910's and the late 1940's.
In the 1910's Jeges tried out many fields of graphic design. He created lot of book covers and illustrations that show the influence of Art Noveau and folk art. His delicate drawings and had-drawn letters are very similar to the works of Elek Falus.
As poster artist, Jeges is primarily known for his propaganda posters. In 1919 he created posters for the Hungarian Soviet Republic. Some of these leftist posters depict characters (a worker or a soldier of the Red Army), some of them are clear typographic compositions, with well-crafted fonts. He also designed an impressive anti-alcoholism poster, which was presented in an issue of the German magazine Das Plakat (in an article about the revoultionary posters of Hungary).
After the fall of the regime, Jeges started to work for the opposite political side. He designed posters for revisionist campaigns, which meant the propaganda against Hungary's huge territorial losses after the Treaty of Trianon, in 1920. According to his son, his most famous revisionist propaganda poster was made as early as 1918, the end of the war. This poster presents the slogan "Nem! Nem! Soha!" ("No! No! Never!"), which is an often used phrase among nationaist and rightist political groups ever since. The slogan refers to the new map of Hungary, ie the smaller country after the Trianon Peace Treaty. The poster shows Hungary's old (before-Trianon) map, as a marble slab that is broken into pieces (ie into small-Hungary and the detached territories). The poster has been so famous (and it is until today) that Jeges put its picture on the advertisement of his studio in the 1920's.
Jeges resumed desiging posters after 1925, and continued to work during the 1930's. He designed some colorful commercial and event posters. He continued to design posters occasionally until the end of the 1940's.
As painter he joined the traditional and classicist tendency in the 1920's, called "Római Iskola". That means, he was member of the Hungarian artist colony who were working in the Collegium Hungaricum in Rome. He painted naturalist landscape paintings, which show the effect of Italian Novecento.
Jeges was living in Óbuda, the Northern part of the Buda (right) side of Budapest. His house stood on a picturesque hilly side with splendid view, which offered topic for his paintings. He loved to fly airplanes, which gave him the oppurtunity to draw amazing bird-eye's view landscapes, for example of Budapest. One such drawing of him was used as touristic map in the 1920's. .