Falus Elek
1884 - 1950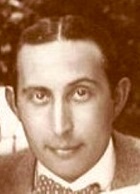 Falus, Elek
Falus was a graphic artist, illustrator and interior designer, active during the first half of the 20th century. He is famous for his book cover designs and illustrations. His Art Nouveau style was a combination of secessionist motives and elements of folk art. His illustrations and posters show folkloristic flower motives, as his book cover designs.
Falus studied in Nagybánya and Budapest, and he spent lot of time abroad on field trips. After 1909 he published illustrations in the Nyugat, the main periodical of the modern Hungarian literature, he also designed the books of the famous journal.
He ran the tapestry workshop at the artist colony of Kecskemét for a while.
He often worked together with his good friend, Tibor Pólya. Along with Anna Lesznai, Falus is a main figure of the folkloristic Art Noveau tendency in the 1900's and 1910's. .