Uitz Béla
1887 - 1972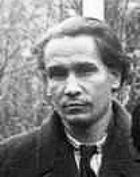 Uitz, Béla
Béla Uitz was a painter and graphic artist. He studied painting in the first decade of the 20th century in Budapest.
In 1916 he joined Lajos Kassák's avant-garde circle (Activists), formed around his journal MA. His works were inspired by Expressionism and other foreign Avant-Garde tendencies. He often made graphic works: etchings and woodcuts.
In 1919, during the Hungarian Soviet Republic, he became member of the Directorate of Art. He designed one very modern and influential political poster for the recruitment of the Red Army. The slogan says: Red Soldiers Advance! (Vörös Katonák Előre!). This impressive poster is based on the dynamism and rhythm of the figures, their dynamism and unity is effectively represented. Uitz only used black and red colors, but his design is monumental. He made many other poster designs as well, but this is the only example known what was printed.
After 1920 he had to leave Hungary; for a while he was staying in Vienna, later he lived in Germany and Russia. He returned to Hungary in 1970. He is an important Hungarian Avant-Garde artist. .