Dallos Hanna
1907 - 1945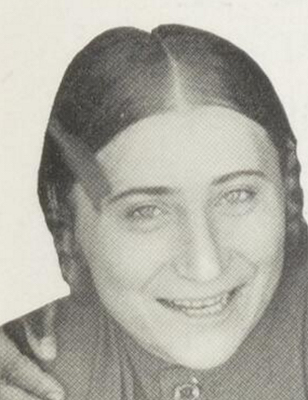 Hanna Dallos
Hanna Dallos was a graphic artist and illustrator, working in the 1930's and 1940's. Her designs are impressive and decorative Art Deco works. She combined modern, Art Deco shapes with elements of folk art, which was very fashionable in the 1930's. She's known for some excellent tourism posters, but also designed commercial and event posters. She often made woodcuts: for book illustrations, covers, albums, etc.
Hanna Dallos came from a Neolog Jewish family. She studied at the School for Applied Arts in the mid-1920's. She met there Gitta Mallász, with whom she became best friends, and later they were working together. After Hanna got married to Joseph Kreutzer, who was a furniture designer, they opened a common workshop.
In the early 1930's Gitta Mallász joined them here and they started to work together on commercial graphic designs. Because of the growing anti-Semitism, the non-Jewish Gitta became the "face" of the workshop: she received several official orderings. As the anti-Semitism got stronger, many of their works was only signed by Gitta Mallász, maybe because the collaboration of Hanna Dallos had to remain a secret. They produced many impressive tourism posters, and they were also often working for fashion companies (like that of Klára Tüdős).
They were also enthusiastic for book illustration, they were working for cookbooks, sport booklets, etc.
In 1943, the friends moved out to a village near Budapest because of the frequent bombings. Here Hanna started to mediate messages from a transcendent power, while she was talking to her friends. In the 1960's Gitta Mallász published these conversations in the book "Talking with Angels" , which became a world famous spiritual book.
In 1944, Gitta tried to rescue her friends by hiding them (and around 120 Jewish women and children) in a military factory. Gitta was the head of the institution, who had to protect the workers. After attacks by Arrow Cross troops they were descovered. Many of the women and children could flee, but Hanna, and their other best friend Lili Strausz were deported. Hanna Dallos died during the transport between two concentration camps in 1945.
The designs of Mallász-Dallos show their outstanding knowledge and affinity towards folk art. Folkoloristic motives were common in the art deco styled posters of the 1930's, we can see them on Konecsni's designs for example. However, for Gitta and Hanna the folk are meant much more than a fashion, they were collecting and studying the rural art of different areas. They also used these motifs and the costumes on their designs.
The works of Dallos and Mallász show a special grace and charme. Their figures are very decorative, lovely and charming. They often represent children in a very sweet manner. Their illustrations are mostly made for children's books, they also show this dreamlike lovely artistic world, filled with nice animals, fairy tale figures and beautiful princesses.
It is hard to distinguish the style of the two artists, since they made almost all of their works together. Hanna Dallos had a stronger spiritual interest, which is apparent in some of her illustrations and woodcuts. She published a splendid album which illustrated the Paternoster prayer. These woodcuts show that the expressionsim had a slight impact on her work, since she tends to use dramatic lightening effects, shortenings and bold viewing angles to heighten the expressivity of the compositions. .