Csabai Ékes Lajos
1896 - 1944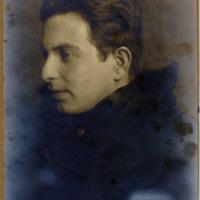 Lajos Csabai Ekes (source: omike.hu)
Csabai Ékes worked for the Kner printing company in Gyoma for a while, which was famous for its high quality works in the first half of the 20th century. As a poster artist, Csabai-Ékes followed the Art Nouveau style of the 1910's. This style dominates his designs from the First World War.
In the 1920's, his style changed, and his posters from this time are important works of the Hungarian Art Deco. They often mix elements of modernism and folk art. He also made some designs that followed the color scale and some solutions of the clear constructivist poster art (for example the poster of Albus szappan).
Csabai Ékes was a leading figure in Hungarian applied arts in the between wars period. He organized important group exhibitions. He also founded his own art school in 1919. Besides, he was also painting, making illustrations and small sculptures. He was famous from his decorative, art deco cover designs that appeared on journals and books as well. His style was sometimes close to Lajos Kozma's classic, decorative, folk art inspired art deco. .