Rippl-Rónai József
1867 - 1927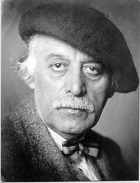 Rippl-Rónai, József
József Rippl-Rónai was a painter, graphic artist and designer at the beginning of the 20th century. He was one of the most important Hungarian artists, and the first to introduce modern artistic trends in Hungary.
After studying in Munich, being disappointed with the academic manner there, he moved to Paris in 1887, and became Mihály Munkácsy's assistant. He soon left the atelier of the Munkácsy, and joined the Nabis group of painters. Here he was able to develop his very fine, symbolic artistic world. His style is close to that of Bonnard and Maurice Denis, he painted symbolic, delicate compositions, using few colors (this is called his "black period").
In the early 1900s he returned home and bought a villa in Kaposvár. From that time on his style had changed and his family and friends served as themes of his works. He started to apply strong colors, and built up the compositions by large touches of the brush with strong contours.
He worked as a designer as well, and created a glass window for the Ernst Museum, a complete interior design for a dining hall, and ceramics for the Zsolnay company.
Besides, he designed a couple of posters, when the genre was at its infancy in Hungary. His best poster design was made for a group exhibition. It shows a version of Rippl-Rónai's famous painting Woman with a birdcage. Rippl-Rónai shows the woman from a close view, she, the bird and the flowers appear as a decorative pattern. The composition is defined by the strong outlines of the shapes and letters. Rippl-Rónai's poster was shockingly modern at its age. .