Pócs Péter
1950 -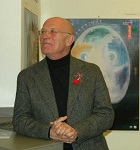 Pócs, Péter
Péter Pócs is a graphic designer. He worked extensively during the 1980s and 1990s. He was designing posters, logos, corporate identities and publications.
In 1986 he founded the DOPP group of poster artists together with Krzyzstof Ducki, István Orosz and Sándor Pinczehelyi. His posters usually transfer a strong message, and are quite suggestive. He used several different techniques and styles over the years: some of his designs are painted or drawn, other use photographs of handmade objects.
He got the idea to create small, absurd sculptures using modeling clay, and take photos of them, which then served as the basic material for his poster designs. His works are absurd, shocking, and often conceptual. .