Molnár C. Pál
1889 - 1981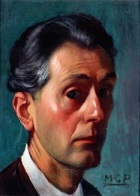 Molnár-C., Pál
Pal Molnar C. (often called MCP after his signature) was a painter and graphic artist.
After a short period of studying in Budapest, he moved to Switzerland, where he developed painting style en plein air. In the early 1920s, he went to Paris where the contemporary art tendencies put a high influence on him.
After returning to Hungary he worked as an illustrator for the Est newspaper. The characteristics of French Art Deco were apparent in his drawing style and it also involved elements of modern trends, for instance Cubism. His illustrations in Est and other journals show the life of the bourgeoisie in the city. He soon turned to other forms of illustrations: he made woodcut series to illustrate literary works.
As a painter he became more and more successful, and as a result of his achievment he was invited to the Collegium Hungaricum of Rome, where he was deeply influenced by the art of the Trecento. He became one of the leading artist of the interwar period as the member of the group Római Iskola (Rome School, which referred to the Hungarian painters who received the scholarship to Rome).
As a poster designer, he was mostly active during the 1930s, although he did create some posters during the 1940s and even after World War II. He chiefly designed travel and event posters, and was commissioned to make the poster of the Eucharistic Congress in Budapest in 1938. His designs are picturesque Art Deco posters. His most well-known poster was designed for the cigarette paper company Modiano.
According to the journals of his time, the very first official tourism poster of Hungary was designed by Molnár-C. The title of this poster is Balaton and it displays the outrageously beautiful landscape of the shore of the lake. The later travel posters of MCP were mostly advertising Budapest, and they are also splendid pictoresque compositions. The novelty of Molnár C.'s travel posters was the strong top view that allowed him to represent monumental landscapes on the posters.