Moholy-Nagy László
1895 - 1946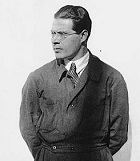 Moholy-Nagy, László
László Moholy-Nagy was one of the most prominent figures of the Hungarian modernist movement. He was a painter, a photographer, an art theoretician and a professor of the Bauhaus school. Moholy-Nagy was a highly influential artist of Constructivism and a strong advocate of the integration of technology and industry into art.
He was born to a Hungarian Jewish family, under the name of László Weisz and studied law in Budapest. In World War I. he was enlisted. After the war, he joined Lajos Kassák's Avant-Garde circle, which gathered around Kassák's journal, MA. After 1918 he attended the private art school of Róbert Berény. Moholy-Nagy was a supporter of the Hungarian Soviet Republic in 1919 which only lasted for 133 days. After the fall of the regime, around November 1919, he left to Vienna. From there, he went to Berlin in the 1920s, where he worked as a reporter for Kassák's journal MA. Kassák did not only publish Moholy-Nagy's writings in MA, but in his later periodicals as well (Dokumentum and Munka).
In 1923, Moholy-Nagy replaced Johannes Itten as the instructor of the foundation course at the Bauhaus. Throughout his career, he was a highly innovative character in photography, typography, sculpture, painting, printmaking, and industrial design. He resigned from the Bauhaus early in 1928, and worked as a highly wanted freelancer designer in Berlin.
After the Nazis came into power in Germany in 1933, he moved to the Netherlands (where he mostly worked on commercial projects), then fled to London in 1935.
Unfortunately only a few poster designs of Moholy-Nagy are known, most of which were made in Germany during the time when he worked as a freelancer. However, his theoretical work had a great impact on Hungarian poster art. He invented the design of the Bauhausbücher series, with which he introduced new tendencies in book design and typography. His work in experimental typography, the invention of block letters and the constant use of small capitals were just as well extremely influential. He was among the most important masters of Avant-Garde experimental photography. His poster designs usually used photographs and montages (photoplastics as he called it); this was the main scope of the experimental art of Moholy-Nagy. He was a member of the Magyar Könyv- és Reklámművészek Társasága (Hungarian Society of Book and Advertising Artists), and was among the exhibiting artists of their legendary exhibition in 1930. .