History
Art Deco & Modernism (1920 - 1944)
Take a look at our inventory from this period by: clicking here.
With the fall of the Hungarian Soviet Republic and the beginning of the Horthy-era a new chapter in the history of Hungarian poster design had begun. Most of the talented graphic artists worked for the Soviet regime in 1919, but after its collapse they had no other choice but leaving the country. It wasn't until the general amnesty in 1925 that they were allowed to return to Hungary. Their return brought a new quality to design as these artists got acquainted with the newest international artistic tendencies while they were abroad. The antecedent of this big turn in poster design was the Hungarian avant-garde. The painter group called "The Eight" formed a classic avant-garde artist group in 1909. The artist circle of Lajos Kassák, the Activists was a very important group of artists working during the late 1910s.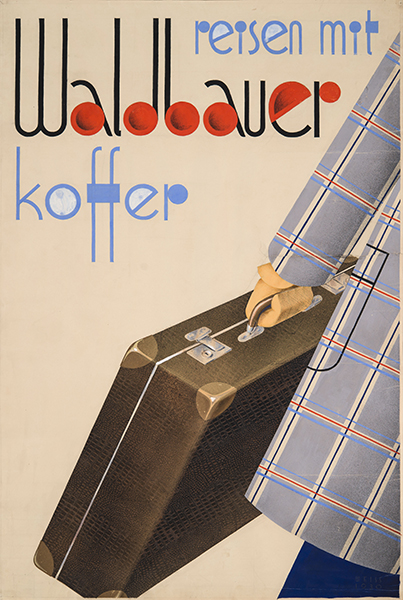 Pal Vince - Travel with Waldbauer suitcase koffer 1930 Hungarian Modernist poster original artwork
Kassák was not only an important modern, constructivist painter and designer (besides being a writer and poet), but was also one of the most important art organizers and theoreticians of his age. His journals, "A Tett" (The Deed) and "MA" (Today), and later "365", "Dokumentum" (Document) and "Munka" (Work) supplied the audience with vast information about all the important tendencies of the avant-garde. In 1916 in his famous article "The poster and the new painting" Kassák claimed that the freshness, suggestive power and compact visual language of the modern poster are the determining values of modern art, and that modern poster as a work of art measures up to any painting. His constructivist art (called picture-architecture) had a symbolic meaning: it referred to a new social order with its ideal geometry.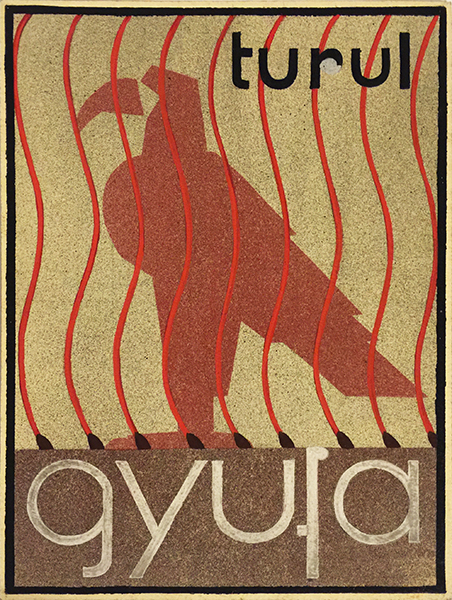 Turul matches 1930s Hungarian Modernist poster artwork
Kassák, Sándor Bortnyik and Róbert Berény were the key figures of establishing modernist poster design in Hungary. Bortnyik was a former member of Kassák's circle. As an emigrant in Vienna, he was a reporter for "MA" until 1922. Between 1922 and 1924, he lived in Weimar, where he was deeply influenced by Bauhaus and Theo van Doesburg. Berény emigrated to Germany as well; he lived in Berlin. They both returned to Budapest in 1926, and soon started to work in the field of poster design. They were both painters, but were unable to make a living by selling paintings. Commercial graphic design was an important source of income for artists. Bortnyik and Berény integrated the modernist tendencies into their poster designs. While their modernism would've been considered to be scandalous on classic exhibitions, its fresh power was a valuable asset on the field of graphic design.
Zoltan Csizmazia - Maklary Email varnish 1930s Hungarian modernist poster
Their artistic principles were defined by the tendencies with which they became familiar abroad: Constructivism, New Objectivity, Bauhaus and De Stijl in particular. This means that they adopted functionalism: their aesthetics followed this principle. Therefore their posters are simple and clear, the text is well readable, and the forms are carefully constructed and minimalistic. As for typography, it was a central subject of modernist poster design. The world famous Bauhaus teacher and artist, Moholy-Nagy, was one of its main reformers. Moholy's principles of typography, and his work in this field – especially the Bauhaus Bücher series – became an important source for Hungarian graphic artists. Typography was fundamentally influenced by the work of Bauhaus artists like Moholy-Nagy, Herbert Bayer, or Farkas Molnár, another Hungarian. They invented new ways to arrange letters, used intensive colours, different font sizes and designed new typefaces. This opened up a whole new world of possibilities.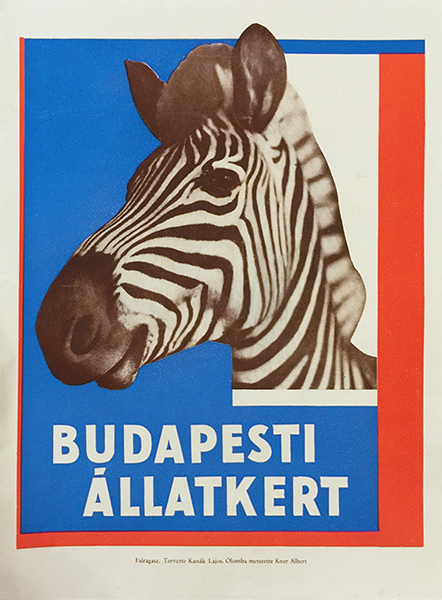 Lajos Kassak - Budapest Zoo Magyar Grafika plate 1928 Hungarian poster design
Kassák made his first modernist-constructivist poster design in Vienna in 1924 for the newspaper Magyar Hírlap (Hungarian Newspaper). The poster resembles his "picture-architecture" paintings. It is an abstract composition, based on the contrast of red, blue and white. The design was printed, and a new type of poster appeared on the streets of Budapest. Kassák designed many posters, but only a few were actually printed, and even less were preserved. Some of his works are only known from photos taken of them.
In 1926, Bortnyik created two designs for Modiano, and made a poster for the newspaper "Újság". The geometric, constructivist approach is apparent on all of them. Bortnyik did not make abstract posters, he built figures and objects from geometric elements. He designed monumental modernist posters for charcoal companies (Vágó Dezső, Futó Gyula).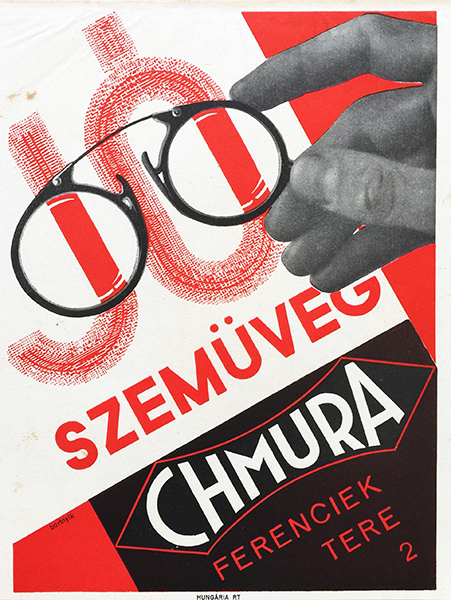 Sandor Bortnyik - Chmura 1930 Hungarian Avant-garde Modernist poster
Berény started to create constructivist poster designs after his return as well. Like Bortnyik, he also constructed figures from the geometric, flat forms, used dynamic movements and well-chosen slogans (Flora, Cordatic). His works are often humorous or playful, he prefered to use animation-like lovely but geometric figures, who incorporated the brands (He is also known as a pioneer in animation). Berény designed a charming series of posters for Tátra washing powder and for Polo soap. Among the most famous Hungarian posters one of his designs for Modiano from 1929 can be found, with the stylized image of a smoking gentleman opening a door.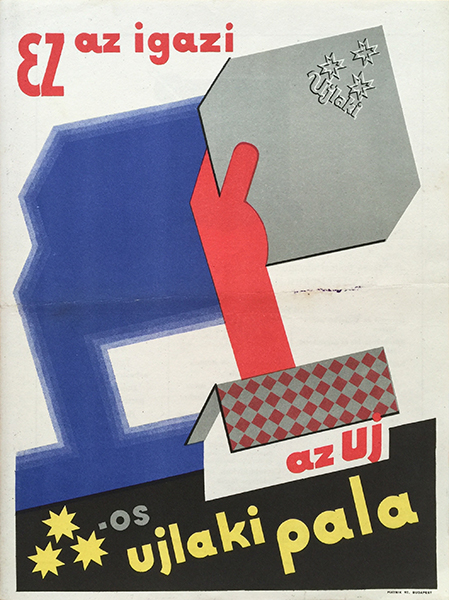 Robert Bereny - Ujlaki tiles 1929 Hungarian Modernist poster
After these works appeared on the streets of Budapest, the modernist poster style soon became very popular among artists and advertisers as well. The famous Italian tobacco brand Modiano was one of the first companies that realised its impact; they published a series of modernist posters, commissioning the best artists from 1922. Many of them designed multiple posters for Modiano. The principles of the modernist design spread through professional periodicals and exhibitions. Kassák paid special attention to representing the poster in his journal "MA", but there were professional periodicals specialized on the subject as well, like "Magyar Grafika" (Hungarian Graphics, which focused on modernist graphics design from 1928), "Reklám-élet" (Advertising Life) and Bortnyik's short-lived journal "Plakát" (Poster). Bortnyik himself wrote several articles on poster art. More and more open tenders for poster designs appeared, and the level of interest was so high, that the original layouts were often publicly exhibited. In 1927, the commercial graphics department was introduced at the Christmas exhibition of the Országos Iparművészeti Társulat (National Association of Applied Arts). In 1928, the Association of the Hungarian Book- and Advertising Artists was formed, and they organised an introductory exhibition in 1930, which showcased their achievements. Every important artist including Kassák, Bortnyik, Berény, Moholy-Nagy participated among many others. Besides the specialized press, associations, exhibitions and the art schools played a defining role in the long-term impact of modernist poster design.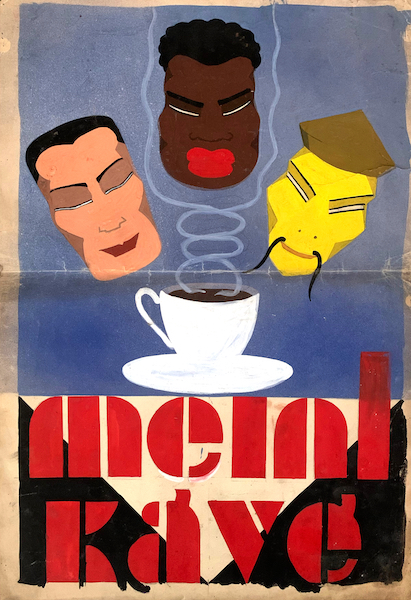 Mariann Preszler - Meinl coffee 1930 vintage Hungarian poster maquette
The state art school, the Iparművészeti Iskola (School of Applied Arts) was unable to keep up with the pace of development of graphic design influenced by modernist tendencies, but private schools successfully took its place. In Álmos Jaschik's school, the folk art was important but modernist and Art Deco influences were also present. Bortnyik established his art school "Műhely" (Workshop) modelled after the German Bauhaus; many important modernist artists studied here, such as György Nemes, Gyula Macskássy and Győző Vásárhelyi (later known as Victor Vasarely). Lajos Csabai-Ékes (important applied artist and graphic designer) and Dezső Orbán (painter) each had their own, influential private art schools.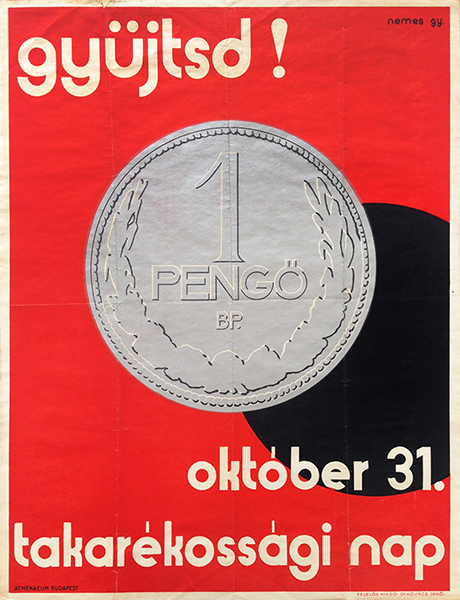 Gyorgy Nemes - Collect it! October 31 Savings day 1929 Hungarian Modernist poster
In 1933, Bortnyik published an article with the title "Funeral sermon of the modern poster", and proclaimed the end of modernist poster design. After 1930, he and Berény started to work in a different manner: they left the basic strong colours and started to use pink and pastel tones; the geometric forms were replaced by plastic details, the sharp edges by soft transitions. Despite Bortnyik's farewell, the modernist poster survived until World War II, thanks to his talented students.
Irsai came back to Hungary around 1930 after a short term period in Palestine, where he designed the first modern Hebrew font. After 1930 he became the third master of Hungarian modernist poster design. István Irsai was originally an architect, which, seeing his fine, accurate, clear drawing style, might be obvious. Irsai worked for big brands, such as the fashion company Nor-Coc, the electricity company Lampart, and for Modiano, Albus soap, and many more. His perfect, clear modernist compositions possess high artistic values. He also had an outstanding talent in typography; his fonts reflect his Bauhaus-inspired artistic approach; the placement of the script and the choice of fonts are always inventive.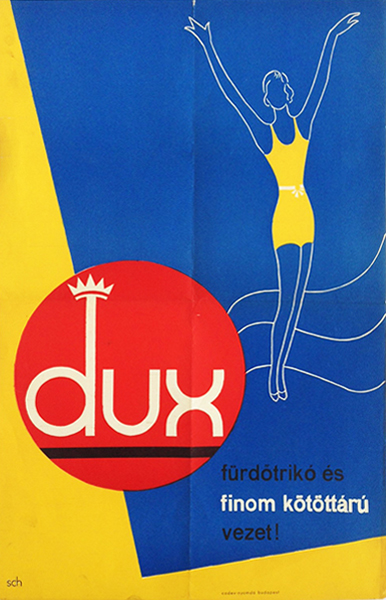 Dux, the leading brand in Bath Jersey and Knitwear!
Besides Irsai, Tihamér Csemiczky continued to design commercial posters in the constructivist / modernist style after the 1930's as well. He was regularly working for huge electritechnical companies, like Tungsram, Standard, Telefunken, etc. In Tungsram's case, he had a complex vision of the company's image: the posters, leaflets, brochures and even the light bulb's packages reflected this image. He remained the main graphic designer of the company for decades, even after the Second World War.
Parallel to modernism, another tendency appeared in poster design: the Art Deco. The term derives from the name of the 1925 international applied art exhibition in Paris. Art Deco is commonly referred to as a style of applied art, in which modernism is mixed with traditional art and orientalism. However it is more precise to descibe the Art Deco as a certain taste that answered the needs and views of a certain social class, the so called gentry. The essence of this style is decorative beauty, thus it uses motives from contemporary popular visual culture (like films, advertisements, photos) and from earlier styles like Art Nouveau, folk art or historicism.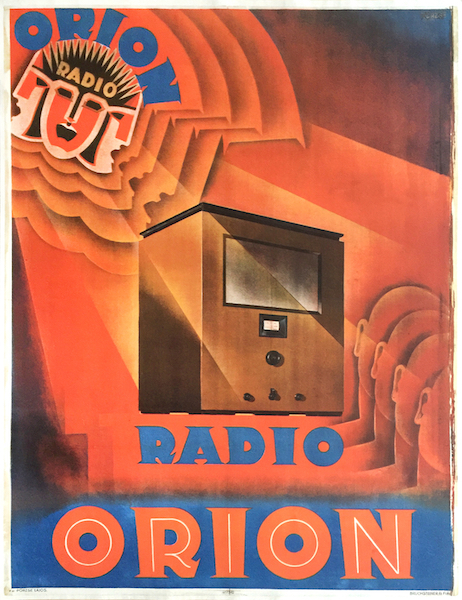 Lajos Porzse - Radio Orion 1930s vintage Hungarian Art Deco advertising poster
Art Deco was an important style in international poster art all over the world, especially in Europe and America, where brilliant posters were made. This design style adopts principles from modernism (it often represents abstract forms for instance), but it lacks the social undertones of the avant-garde. Art Deco was mostly appreciated by the rich upper class bourgeoisie as it fulfilled their desire for a modern and elegant decorated environment. Their world contained the buzz of the metropolis, fast automobiles, modern households, revues, vaudevilles, theatres, cinemas, jazz music and dance clubs. In this culture women embodied new gender roles, that is the decadent and demonic lady of the big city, wearing a fashionable straight-cut dress and short hair. This world is very well represented on the movie posters of the age. This poster type slowly surpassed the narrative style of the 1910s, and became stylized, fresh and erotic in the manner of Art Deco. This elegant world is also reflected in travel posters of the era.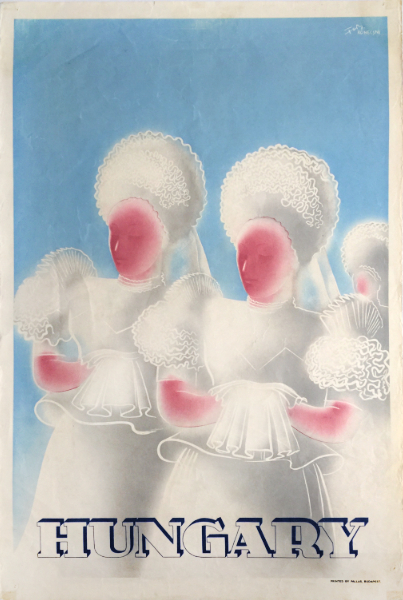 Gyorgy Konecsni Antal Fery - Hungary 1936 Art Deco Hungarian vintage travel poster
Art Deco flourished simultaneously with Modernism in Hungary but in most cases the posters were designed by different artists. One of the great Hungarian Art Deco poster artists was Tibor Réz-Diamant, who designed outstanding movie posters (for example "Az éjszaka virága"). One of his best work is "Josephine Baker", designed for a show of the singer and actress in Budapest in 1928 at Royal Orfeum; it is a simple and geometric composition, also has a hint of modernism, but is highly decorative, playful and bold. Réz-Diamant created several great designs for films ( e.g. "Atlantis") and revues, such as the Tiller Girls' poster, that amazes the viewer with the rhythm of colours and forms. His works are spectacular reflections of the new big-city lifestyle that emerged in the 1920's and 1930's. Ernő József Deutsch also designed great Art Deco movie posters, using decorative compositions.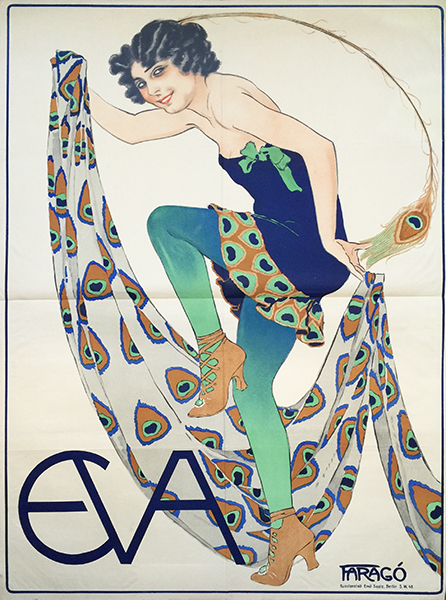 Geza Farago - EVA Berlin 1920s Hungarian German Art Deco poster
József Bottlik was one of the greatest Hungarian poster artists, and his best works are his Art Deco posters from the 1920s and 1930s. He worked extensively for the electronics company "Orion". He designed the company's three-headed logo, which was used for decades. He designed the Hungarian poster for the legendary movie "Metropolis", which is a true masterpiece. He drew a muscular male figure, holding a huge, glowing city, resembling New York, with glowing Art Deco skyscrapers on his shoulders, and on the top the movie's machine god appears. Bottlik's designs characteristics are the wonderful Art Deco typography, the special lighting effects and the decorative drawing style.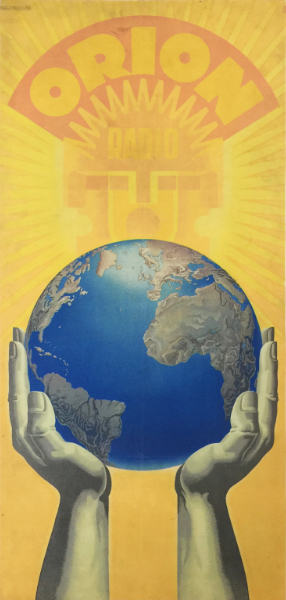 Jozsef Bottlik ORP - Orion 1930s Hungarian Art Deco poster
Art Deco is hard to define, however there are certain typical characteristics. It is an eclectic style that mixes different elements, traditional motifs with modern materials and the symbols of the Machine Age. It applies ornamentation, strong and rich colours like pink, purple, gold and silver. It partly utilizes the typography of modernism and the flat, geometric shapes. Influences of Expressionism are also visible, such as distorted forms, like on József Bottlik's film posters (Amerika lázban).
The Hungarian Art Deco had a unique tone that was defined by the influence of folk art. The folk baroque furniture by Lajos Kozma is among the best-known examples. Kozma was a well-known modernist architect and is also famous for his Art Deco book illustrations. The folk art trend was supported by the increasing nationalism between the two world wars. The folklorist attitude was dominant on travel posters: folk costumes and traditions were often depicted, but the compositions always had a modern Art Deco touch (for example: Gitta Mallász: Ungarn, or Konecsni's travel posters).
György Konecsni was a prominent artist from the late 1930s, when he developed his own unique style. At the beginning he was influenced by the modernist poster style, but his works soon drifted towards Art Deco. His own tone was characterised by classicist forms, plasticity, soft colours and elegant typography (for example: Budapest fürdőváros - Budapest, the city of baths). On his travel posters, this manner is combined with folk art, what can also be observed on his works designed in cooperation with György Kling.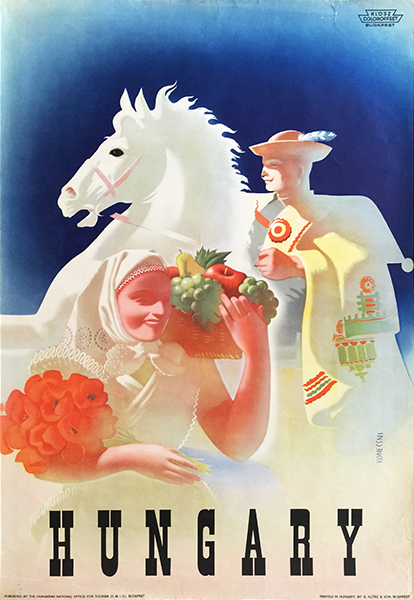 Gyorgy Konecsni - Hungary 1939 Hungarian Art Deco travel poster
Konecsni's Art Deco-esque classicism and modernism influenced the works of Aladár Richter junior. He designed several great tourism posters (for example for Budapest), and he was working on the advertisements of capital's tourism office. Richter also designed commercial posters, amny of his works present a trasition between art deco and modernism. One of his most famous works is the Modiano poster, which represents two stylized, geometric figures presented in Art Deco style.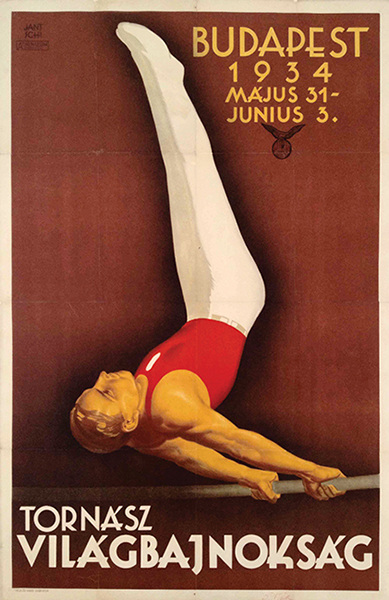 Bela Jantschi - Gymnastics World Championship 1934 Hungarian vintage poster
The differences between Art Deco and modernism are easily recognizable if we put two Modiano designs from 1929 next to each other: one from the painter Pál Molnár C. and one from Bortnyik's Modiano series. On the latter we see a giant flat hand rolling the cigarette-paper in front of an orange background: one simple but clear motif, rich and strong colours, and diagonally set bloc lettered text. The poster by the art deco painter Molnár C. however, depicts a beautiful woman's profile in counter light, with yellow and brown tones, the smoke is coming out in a thin decorative line from her mouth, ending in a spiral. These are the two faces of Hungarian poster art of the period between 1920 and 1944: clear and calm modernity and decorative erotic Art Deco. It was a very rich, flourishing period of Hungarian poster art, which was abruptly ended by World War II.
Szerencsi bonbons chocolate cocoa 1920s Hungarian vintage Art Deco advertising poster
It is important to note that many posters which were made in the between wars period can not be ranked into these two major artistic tendencies. Hundreds of posters were printed which were of low artistic quality, and which presented a rather tradititional and realistic style. Mostly the commerce movie posters represent this segment; they were usually following the same recipe: big, photo-like portraits of the stars with some scenes of the movie. Despite their relative unispiredness, today they also seem to be very interesting and decorative.
Take a look at our inventory from this period by: clicking here.