Faragó Géza
1877 - 1928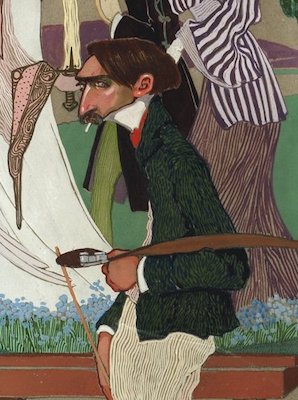 Geza Farago
Faragó was one of the greatest masters of the early Hungarian poster art. He is the most important artist of the Art Nouveau style in Hungary, his well-known works combine the decorative fineness of "Secession" with exquisite humor and caricature.
He studied under Ferenc Ujházy, then he worked in a textile factory. Later Faragó traveled to Paris, where he also worked in a textile factory, besides which he studied at the Colarossi Academy, then in the Atelier Artistique Delaye. In 1900, Faragó got a new scholarship to afford his stay in Paris, with which he was able to study at the École des Arts Decoratifs. From there, his way led to Alphonse Mucha's workshop, where he worked for two years, side by side with the Czech master. Faragó exhibited a couple of times in the Salon in Paris.
In 1902, he moved back to Hungary, and started to paint in the workshop of Adolf Fényes (he spent two summers there), later he also worked in the artist colony in Kecskemét. After years of traveling he finally settled down in Budapest. His paintings and graphic works were exhibited in several exhibitions at the Nemzeti Szalon (National Salon). (Some of Faragó's paintings are today in the collection of the Hungarian National Gallery). He had a solo exhibition in Berlin in 1914.
During the World War One, Faragó was busy designing propaganda posters. He was also a well-known caricaturist and costume designer – but first and foremost, he was famous for his outstanding posters. Under Mucha's influence, Faragó has developed a unique, grand and decorative Art Noveau style, which was his own. The decorative two dimensional style of the Japanese woodcuts also had a great influence on his art. He used vivid colors, strong contour lines, and beautiful, ornamental forms and patterns.
Like his Czech master, Faragó preferred to represent lovely female figures. Faragó had a special sense of humor and a caricaturesque style that he was able to seamlessly blend with the stunningly attractive Art Nouveau shapes, patterns and other elements: he has created several unforgettable humorous figures, acting almost like trademarks in his designs (such as the bishop for Kerpel, the dandy for Törley, the cheerful girl for Janina). These figures typified the members of the European and Hungarian urban societies of the time.
He also liked to draw caricatures of himself some of which has appeared on his posters (for example on Tingli Tangli). Faragó was an enthusiastic fan of metropolitan life, he has designed many commercial posters for nightclubs, cafés, pubs and theaters – he himself became a well-known personality in Budapest's nightlife. His talent also made him perfectly suited for designing fashion posters.
Faragó's style is close to Mucha's: he uses strong and decorative contour-lines, and large, flat, colored patches, with which he builds up a comprehensive, decorative composition. As Faragó's art has developed, his works became more clean regarding the composition. He was influenced by the French Nabis style of painting, which is visible on his famous Tungsram poster (woman with a cat).
Faragó started a typical tendency in Hungarian poster art: that the story and jokes are the key tools – besides high artistic value – for capturing the attention. .
Available posters by this artist