Csernus Tibor
1927 - 2007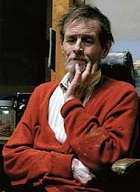 Csernus, Tibor
Csernus is an internationally recognized Hungarian painter. He left Hungary in 1964 and lived in Paris, until his death in 2007.
He started drawing at an early age, and developed his skills at an art school, the Iparrajziskola. He also worked as a lithographer apprentice at the same time. After World War II, he continued his studies, first learning to become a graphic artist, and then switched to painting at the Accademy of Fine Arts in Budapest.
Csernus was a central figure among the young rebelling artists during the 1950's and early 1960's. He developed a new painting style called "sur-naturalism", which is based on intensive brushwork, thick painted surfaces and surrealistic effects.
Between 1954 and 1964 Csernus designed posters and made illustrations as well. His sur-naturalist, painting-like style also appears on his poster designs. .