Repcze János
1905 -1985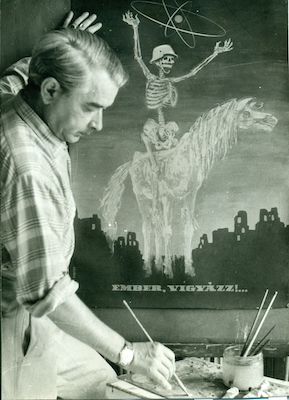 Janos Repcze (source: mandadb.hu)
Repcze was a graphic designer, active from the second half of the 1920s.
He studied at the private school of Lajos Csabai-Ékes and Károly Kernstok. Later he studied at the Academy of Fine Arts where his master was Jenő Haranghy.
His first posters were published around 1927. Between 1930 and 1950 he worked as a graphic designer at the Athenaeum Printing House. Besides posters, he made illustrations and designed book covers. In the 1920s and 1930s, his works show on influence of the modernist style of Lajos Kassák and Sándor Bortnyik, as well as of the decorative Art Deco tendency of the period. His poster for the International Advertising Exhibition has an Expressionist touch, combined with Art Deco elegance.
From the 1920s until the 1960s he designed many posters for cosmetic products, cigarettes, fashion brands, etc. .