Pólya Tibor
1886 - 1937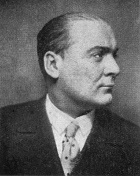 Pólya, Tibor
He was an important Hungarian graphic artist, active between the two World Wars. His works have a drawing-like narrative style, often with humorous tones. Besides being a graphic artist, he was a painter, a caricaturist and an illustrator.
Pólya studied in Budapest, Szolnok and Paris and was a member of the artist colonies of Kecskemét and Szolnok. He once received a scholarship in Rome. He was a good friend of the poster artist and designer Elek Falus. Pólya painted in Post-Impressionist style, he drew caricatures for magazines, and created illustrations for books.
Pólya was also the artistic supervisor of an Art Deco magazine, called Magyar Magazin. He designed posters for political parties, although he was not really politically-minded. He got commisiions for commercial products as well. His artworks were exhibited several times in the Ernst Museum in Budapest.
Pólya's posters are always realistic, figurative and narrative. He likes to depict humoruous scenes, for example on his newspaper posters, the careless reader who strongly focuses on the newspaper, thus gets in trouble. At first, his style was under the influence of Art Nouveau, then modernism and the classicist, elegant, art deco-influenced style of the 1930s. He was inspired by the functional designs of Berény, Bortnyik and Kassák, and by the elegant art deco style of Konecsni as well – and he developed his own style, using these influences.
In this second period of his career, he has created splendid designs for commercial products and companies; his poster for Modiano is an outstanding example. He also created extraordinary tourism posters that showed moments of the modern big city life in the 1930s (such as posters for a golf club, a sightseeing boat or a spa). .
Available posters by this artist