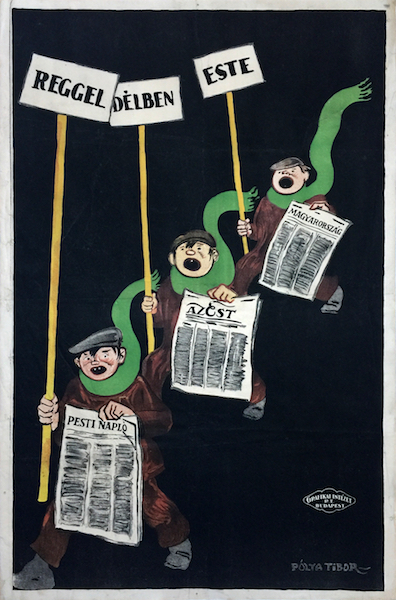 Az Est Journals - Morning: Pest Journal - Noon: The Night - Evening: Hungary
Hungarian title:
Az Est lapok - Reggel: Pesti Napló - Délben: Az Est - Este: Magyarország
Size:
Pre-war 1 Sheet (cca. 95 x 63 cm)
Condition:
Fine, light wear restored fold marks, creasing small tears and holes.
Material:
Paper, stone lithography.
Price: US$12000
Description:
Outstanding poster by Tibor Pólya for the 'Est' publishing house of three important daily newspapers: Morning - Pest Journal (Pesti Napló), Noon - The Night (Az Est), Evening - Hungary (Magyarország). Pólya designed a series of posters to advertise these daily newspapers. He employed his great skills to create humorous and very decorative images.
Pólya was an important Hungarian graphic artist, active between the two World Wars. His works have a drawing-like narrative style, often with humorous tones. Besides being a graphic artist, he was a painter, a caricaturist and an illustrator. Pólya's posters are always realistic, figurative and narrative. He liked depicting humoruous scenes, for example on his newspaper posters, the careless reader who strongly focuses on the newspaper, thus gets in trouble.
This poster is also a lovely piece. The funny figures of the three newsboys create a nice rhythm in the design as they move along together in the same direction, holding a newspaper in one hand and a sign in the other one, shouting loud with mouth wide open. The same kind of clothing and the same curve of their scarves even strengthen the effect. These figures not only contribute to the humorous character of the poster, but they ensure something more important, too: the three advertised newspapers appear in the hands of the newsboys, and their signs suggest that with these papers, news are always available, at every time of the day.
Károly (Karl) Rosner wrote an article about journal posters in the 1932 April issue of Advertising Life (Reklámélet), a Hungarian professional journal. He highlighted the importance of Pólya's posters for the Est newspapers, and pointed out that, out of these outstanding group of posters, this one is the best.