Molnár Farkas
1897 - 1945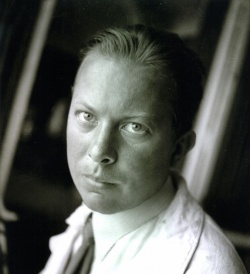 Farkas Molnar photo by Gyula Pap
Farkas Molnár was an architect, industrial designer, and graphic artist.
In the beginning of his career he published an avant-garde journal, Krónika in his hometown, Pécs. He was the art director and editor of the periodical, thus he was the one responsible for the outlook, the typography, as well as for the content. The articles reported about the important modern tendencies in European art, like Cubism and Futurism.
Molnár was an outstanding Modernist painter, but many of his works are lost. Among numerous other young artists from Pécs, like Marcell Breuer, Alfréd Forbát, Hugó Johan, Henrik Stefán or Andor Weininger, he became a student of the famous German school, the Bauhaus. His master was Walter Gropius. Here he designed posters for plays of the local theatre, the Bauhaus Bühne.
Later, he worked together with Georg Muche and Marcel Breuer (Marcell Breuer in Hungarian).
He returned to Hungary and graduated as an architect in 1928 at the Technical University of Budapest. After coming home, Molnár started to work as architect; he designed great modernist and Art Deco buildings in Hungary, mostly family villas in Buda.
Along with Sándor Bortnyik, Molnár played a central role in transmitting the art of the Bauhaus to Hungary. He published theoretical writings, and his designs also represented a constructive and functional style. He designed Avant-garde book and periodical covers, and he also created illustrations; stylistically most of them originate in the Bauhaus. .