Manno Miltiades
1897 - 1935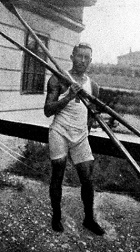 Manno, Miltiades
Despite the early death of the Greek-born Miltiades Manno, he was a real Renaissance Man. He was a great sportsman, a graphic artist, painter and sculptor. He is primarily known for his sport and propaganda posters. (He is also known as Miltiádész or Miltiadesz. His nickname "Milti" was commonly used.)
He was active as a poster artist between the 1910s and 1935. He achieved great success in many sports, including swimming, football, skating and athletics; he achieved great results in Europe as a skater, and took part in the Olympic games as a rower. He was the top scorer of the first two Hungarian national football championships.
As an artist, he studied at the Academy of Munich around the turn of the century. He was enlisted in the First World War, in which he got injured and had to retire from sports. After the war, he worked as a caricaturist, poster artist, painter and sculptor. Sports always remained the favorite theme of his art.
After the fall of the Hungarian Soviet Republic in 1919, the new regime, led by Governor Miklós Horthy found its best propagandist in Manno Miltiades. His style was Classicist, traditional, and yet it showed extraordinary power. In 1919, his impressive poster designs signaled the new era. His poster with the title Horthy! is emblematic: it depicts a muscular arm holding a steering wheel. His designs are often very offensive: they blame the communists for the outcome of the WWI, and they often bear an anti-Semitic tone. In 1919 he designed a series of posters which are blaming WWI on the Bolsheviks. They often depict the red hammer yielding man in a negative context.
He designed some political posters during the election campaigns, most of them were made for rightist organizations, like the governing party, of the association of the veteran soldiers.
Besides political posters, Manno created many sport, travel and commercial designs as well. His posters for soccer games and other sport championships are very popular still today.