Balla Margit
1947 -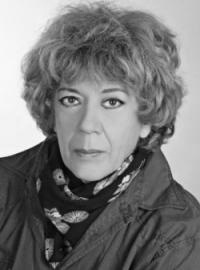 Margit Balla (source: http://budapestbabszinhaz.hu)
Illustrator, painter, stage designer and graphic artist. She was designing posters in the 1970's and 1980's. Today she is known for her illustrations and other graphic works (drawings, etchings etc.), and her theatre designs.
Between 1969 and 1974 she studied graphics at the Academy of Applied Arts under István Balogh, György Konecsni and József Finta. Finishing her studies, she worked mostly on poster designs and illustrations. In the 1990's she turned to stage- and costume designs, and she also created figures for the Pupper Theatre. Now she is teaching visual studies.
On her posters, she combined the impressions of old prints with modern tendencies, like Pop Art. Her designs are easy to recognize because of her special surrealist drawing manner. She created many movie posters with such imaginative compositions. For example, she designed the Hungarian poster for the movie Hair, which also shows a surreal image. .
Available posters by this artist