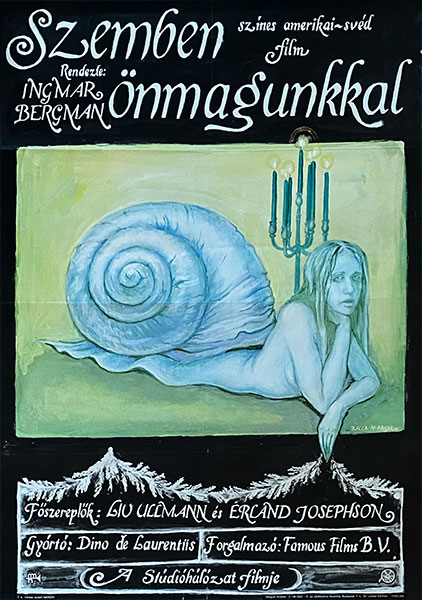 Face to Face
Hungarian title:
Szemben önmagunkkal
Size:
A1 1 Sheet (cca. 59 x 84 cm)
Condition:
Fine, light wear and fold marks, small tears.
Material:
Paper, offset lithography.
Price: US$600
Description:
Face to face is a 1978 original Hungarian vintage movie poster designed by Margit Balla.
Face to Face (Swedish: Ansikte mot ansikte) is a 1976 Swedish psychological drama film written and directed by Ingmar Bergman. It tells the story of a psychiatrist who is suffering from a mental illness. It stars Liv Ullmann and Erland Josephson. The film was screened at the 1976 Cannes Film Festival, but was not entered into the main competition. The film was originally a mini-series on Swedish television with a running time of 200 minutes, and was edited down for the theatrical release. (source: wikipedia.org).
The design of the poster was made by Margit Balla who often used surreal drawings on her pictures. This snail-girl with a candleholder on her back also represents her surreal manner.