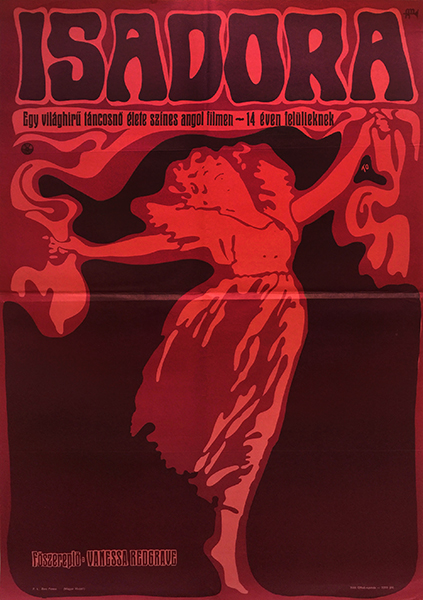 Loves of Isadora, The
Hungarian title:
Isadora
Size:
A1 1 Sheet (cca. 84 x 59 cm)
Condition:
Fine, fold marks.
Material:
Paper, offset lithography.
Price: US$1200
Description:
Poster for the Oscar nominee and Cannes winner biography film of the dancer Isadora Duncan the 1920s dancer who forever changed people's ideas of ballet. Her nude, semi-nude, and pro-Soviet dance projects as well as her attitudes on free love, debt, dress, and lifestyle shocked the public of her time. (source: imdb.com)
Isadora (also known as The Loves of Isadora) is a 1968 biographical film which tells the story of celebrated American dancer Isadora Duncan. It stars Vanessa Redgrave, James Fox, and Jason Robards.
The film was adapted by Melvyn Bragg, Margaret Drabble, and Clive Exton from the books My Life by Isadora and Isadora, an Intimate Portrait by Sewell Stokes.
It was directed by Karel Reisz. It was nominated for the Academy Award for Best Actress (Vanessa Redgrave). The film was also nominated for the Palme d'Or (Golden Palm) at the 1969 Cannes Film Festival, where Redgrave won Best Actress. (source: wikipedia.org)