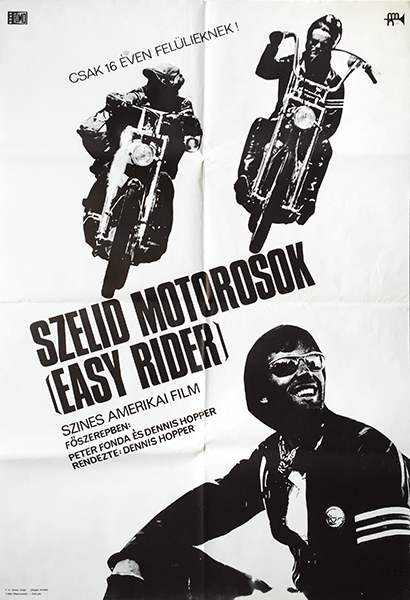 Easy Rider
Hungarian title:
Szelíd motorosok
Size:
A0 2 Sheet (cca. 116 x 82 cm)
Condition:
Fine, fold marks, small tears along the borders.
Material:
Paper, offset lithography.
Price: US$4000
Description:
Poster for the Oscar winning cult cinema, Easy Rider. The film is about Wyatt (Peter Fonda) and Billy (Dennis Hopper), two Harley-riding hippies who complete a drug deal in Southern California and decide to travel cross-country in search of spiritual truth. On their journey, they experience bigotry and hatred from the inhabitants of small-town America and also meet with other travelers seeking alternative lifestyles. After a terrifying drug experience in New Orleans, the two travelers wonder if they will ever find a way to live peacefully in America. (source: wikipedia.org). Jack Nicholson also appears in the movie alongside Peter Fonda and Dennis Hopper.
The photomontage poster was designed for the Hungarian first release. It is very surprising that the movie passed the strict socialist censorship of the time especially that the movie's director of photography was László Kovács a Hungarian who emigrated in 1956 and became a world famous cinematographer in Hollywood. These kind of successes as well as the subjects covered by the movie were taboos at the time, however three years after its release in the United States it was screened before the Hungarian audience also. Probably the regime wanted exemplify the rotting Western culture