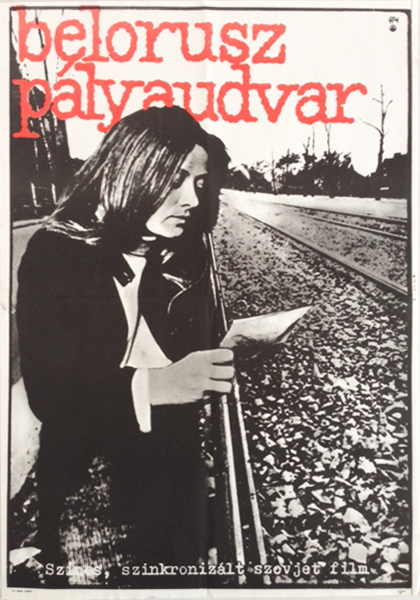 Belorussia Station
Hungarian title:
Belorusz pályaudvar
Size:
A2 1/2 Sheet (cca. 59 x 42 cm)
Condition:
Fine, fold marks, small paperloss at the bottom border.
Material:
Paper, offset lithography.
Price: US$400
Description:
Poster for a 1971 Soviet movie directed by Andrey Smirnov and starring Aleksey Glazyrin, Evgeniy Leonov and Anatoliy Papanov.
Lakner has been making posters since the beginning of the 1960s. Photography plays an important role both in his paintings and in his poster designs. In the 1970s, he made several photo-based conceptual posters, most of which were made for films, cultural programs, or international events. This movie poster is a good example of his photo-based works: he used the technique of burned photography to depict a probably crucial scene of the movie at the Belorussian train station. The contrast of the red letters and the black and white design evokes the atmosphere of the movie.