Lakner László
1936 -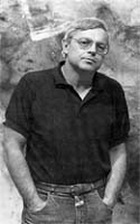 Lakner, László
László Lakner is an important Hungarian painter and conceptual artist. His career kicked off at the end of the 1950s. Since the 1970s he has been living in Germany, where he has gained fame as an artist and art professor. Posters are an important part of his oeuvre, and he is still active on this field. His poster designs are good representations of his conceptual attitude.
Since his teenage years, Lakner has been studying fine arts. He begun his education at the High School of Fine Arts and after he graduated from here he applied to the Hungarian University of Fine Arts where Gyula Pap and Aurél Bernáth - an outstanding painter of the Hungarian art scene in the 20th century - were his masters. He studied graphic design in the class where students who became significant artists later attended, such as György Kemény, Dóra Maurer and János Major.
In the early years of his career, his close friendship with the painter Tibor Csernus influenced both his way of thinking and his style. He and Csernus were both painting in Surnaturalist style, which is a Hungarian mixture of Surrealism and Naturalism characterised by rich facture effects, wild and organic structures on the canvas, and with copious amounts of paint spread on the surface. This style was developed by Csernus and his friends as a reaction to the obligatory socialist realist painting style of the era.
After Csernus emigrated to France, Lakner turned to Pop Art, in particular to the works of Rauschenberg (which he was introduced to at the Biennale in Venice in 1964) influenced him.
In the 1970s, he began working in a special form of hyperrealism, painting objects carrying a particular meaning and memories in a photo-like manner. In the second half of the 1970s, he began making conceptual works: the majority of his art is very politics oriented.
In the seventies, he had several opportunities to travel to East and West Germany with scholarships, and in 1976, he has decided to leave to the West. He was teaching at the University of Berlin and then in Essen and he also spent some time in New York.
Lakner has been making posters since the beginning of the 1960s. As an artist in Hungary, his artistic style was classified by the Socialist government as "forbidden" and "endured", which meant that he could hardly exhibit and sell his works. Poster art was a good solution to this issue: it ensured more freedom, a unique artistic world, and a steady income.
The Surnaturalist effects of factures show up on the early posters of Lakner. Later, his conceptual attitude appears in his works, as the issue he was obsessed with was 'how to define art' and 'what was actually art'. These are the questions where conceptual art is rooted. Exhibition posters provided him a suitable ground for expressing his conceptualism (such as the annual exhibitions of the young artists' Studio, or that of Amerigo Tot). The impact of American Pop Art on these Lakner posters is obvious, as he was clearly inspired by Rauschenberg's stencil letters, Lichtenstein's comic-like paintings, and Warhol's screen printings.
Photography plays an important role as well in Lakner's paintings (it is often used as source), and in his poster designs. In the 1970s, he made several photo-based conceptual posters, most of which were made for films, cultural programs, or international events. These works show his surrealistic approach. Today, Lakner continues to make posters in Germany. .
Available posters by this artist