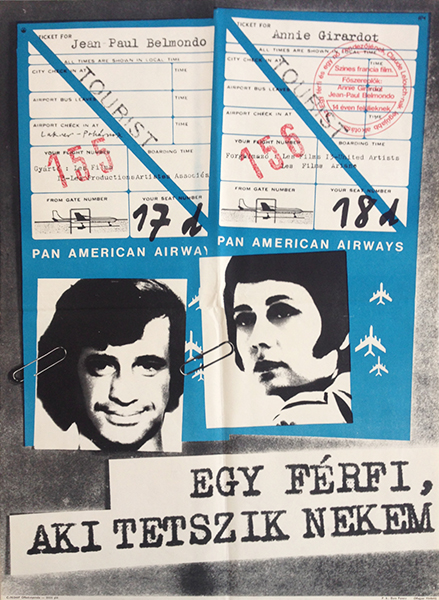 Love is a Funny Thing
Hungarian title:
Egy férfi, aki tetszik nekem
Size:
A1 1 Sheet (cca. 59 x 84 cm)
Condition:
Fine, fold marks and wear.
Material:
Paper, offset lithography.
Price: US$1600
Description:
Outstanding Pop Art poster by Lakner for the first release of the movie in Hungary. Photo by Mihaly Poharnok.
Love Is a Funny Thing (French: Un homme qui me plaît, aka A Man I Like) is a 1969 French romantic drama film directed by Claude Lelouch and starring Jean-Paul Belmondo and Annie Girardot. An accidental meeting in the United States between an actress and a composer, both French. Leaving her husband and child in Paris, Françoise, cinema actress, driven to the United States, is waiting for her break. Composer Henri, married to an Italian, is only in New York to record film music. They are both waiting to go to Los Angeles. There, they become lovers. The next day, Henri decides to delay his return for 24 hours to take Françoise to Las Vegas. Another night of love later, they hire a care and travel across the US with the intention of heading back for New York. (source: wikipedia.org)