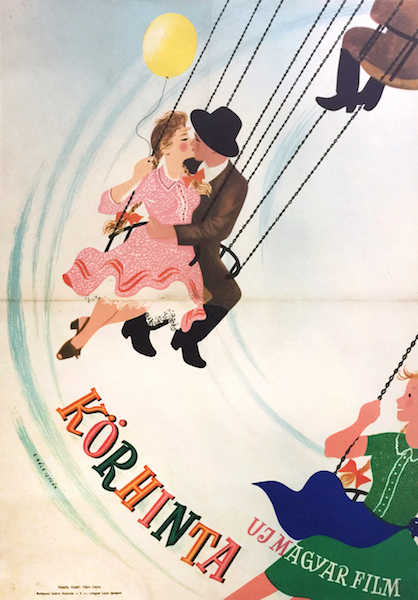 Merry-Go-Round
Hungarian title:
Körhinta
Size:
A2 1/2 Sheet (cca. 59 x 42 cm)
Condition:
Fine, light fold marks and wear.
Material:
Paper, offset lithography.
Price: US$1200
Description:
Merry-Go-Round is a 1956 vintage Hungarian movie poster designed by Istvan Kopeczi Bocz.
Splendid poster for one of the best Hungarian movies. Istvan Kopeczi Bocz's design depicts the moment when the characters' life turn upside down: when the poor boy kisses the girl on the carousel. In a rural scenery in the throes of difficult changes lives a humble but promising young farmer girl called Mari Pataki. Her father forbids her from seeing the man she loves. The father, above all preoccupied by work on the fields and prospective wealth, decides to give his daughter in marriage to an old but rich man with whom he does business. Land marries land, he says. This seems to be the unyielding rule of the Hungarian peasantry. But the young lover is ready to stand up to any challenge to keep Maris love.
Merry-Go-Round (Hungarian: Körhinta) is a 1956 Hungarian drama film directed by Zoltán Fábri, based on the short story Kútban (In the Well) by Imre Sarkadi. It was in competition at the 1956 Cannes Film Festival. It was later selected to be screened in the Cannes Classics section of the 2017 Cannes Film Festival.
Mari Törőcsik as Pataki Mari
Imre Soós as Bíró Máté
Ádám Szirtes as Farkas Sándor
Béla Barsi as Pataki István
Manyi Kiss as Patakiné
Gyula Bakos
Antal Farkas as Samu János
József Juhász
Flóra Kádár as Eszti
Ervin Kibédi
Mária Kovács (as C. Kovács Mária)
László Kozák
János Makláry as Elszámoltatóbizottság tagja
László Misoga as Sógor
Piri Peéry
(source: wikipedia.org)