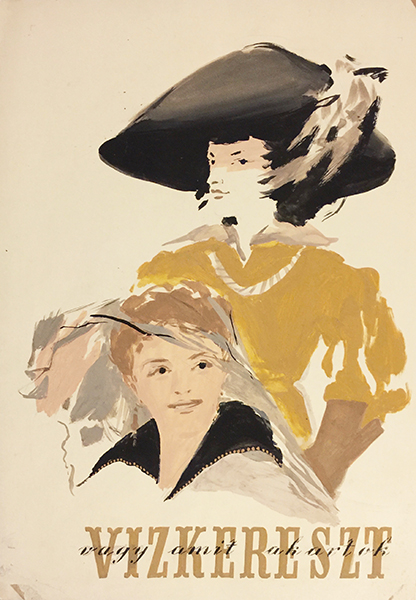 Shakespeare: Twelfth Night, or What You Will
Hungarian title:
Shakespeare: Vízkereszt, vagy amit akartok
Size:
A3 (cca. 42 x 30 cm)
Material:
Paint on cardboard.
Price: US$600
Description:
"Twelfth Night, or What You Will is a comedy by William Shakespeare, believed to have been written around 1601–02 as a Twelfth Night's entertainment for the close of the Christmas season. The play centres on the twins Viola and Sebastian, who are separated in a shipwreck. Viola (who is disguised as a boy) falls in love with Duke Orsino, who in turn is in love with the Countess Olivia. Upon meeting Viola, Countess Olivia falls in love with her thinking she is a man. The play expanded on the musical interludes and riotous disorder expected of the occasion, with plot elements drawn from the short story "Of Apollonius and Silla" by Barnabe Rich, based on a story by Matteo Bandello. The first recorded performance was on 2 February 1602, at Candlemas, the formal end of Christmastide in the year's calendar. The play was not published until its inclusion in the 1623 First Folio."
(source: wikipedia.org)
This poster maquette was designed for a 1955 Soviet movie which adapted Shakespeare's comedy. The movie was written by Jan Fried, its music was composed by Alexandr Zsivotov and it was starring Alla Larinova and Klara Luchko, among others. In Hungary the film was first presented in 1956.
This artwork was created by Sándor Ernyei. The painted composition shows the two main female characters, Viola and Olivia. Viola above is dressed in medieval-like male clothing (wide hat decorated with feathers, bag-sleeved costume with a ruff, gloves), while Olivia below is wearing a veil and a dress with a ruff. Ernyei applied soft pastel shades and delicate shapes for an airy and gentle portrayal. Only a little contouring can be seen, whereas big, flat colour shapes are combined with fine brushstrokes against the natural colour of the paper. The typography is in a perfect harmony with the graphic elements. The entire character of the design is elegant and classy.
Ernyei was an important artist of the golden age of poster art in the 1960's and 1970's. He designed fine posters, but also worked on graphic designs for exhibitions and fairs, and created emblems and logos, too. In the first place, he created movie posters. His style was based on the frequent use of traditional techniques, hand-drawing and painting. During his career, he was influenced by the most important contemporary artistic trends, such as Pop Art, Op Art, Tasism, Abstract painting, and the genre of photography. This decorative piece shows his fine painting skills.