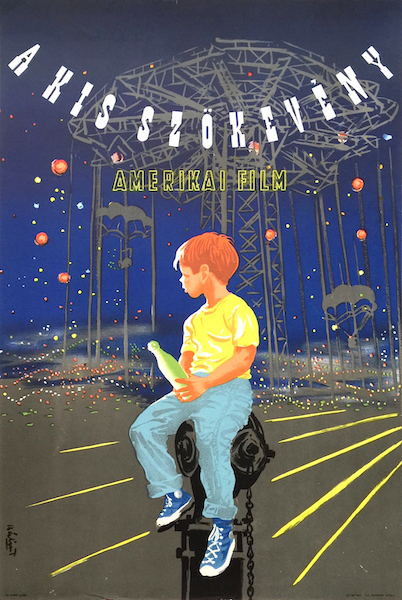 Little Fugitive
Hungarian title:
A kis szökevény
Size:
B3 (cca. 50 x 35 cm)
Condition:
Fine, light wear, small tears.
Material:
Paper, offset lithography.
Price: US$1600
Description:
Little Fugitive is a 1956 vintage Hungarian movie poster designed by Endre Balint.
Little Fugitive (1953) is an American film written and directed by Raymond Abrashkin (as "Ray Ashley"), Morris Engel and Ruth Orkin, that tells the story of a child alone in Coney Island. The film stars Richie Andrusco in the title role, and Richard Brewster as his brother Lennie.
Little Fugitive influenced the French New Wave and is considered by modern-day critics to be a landmark film because of its naturalistic style and groundbreaking use of nonprofessional actors in lead roles. It was nominated for an Academy Award for Best Writing, Motion Picture Story and screened at Venice film festival where it was awarded the silver lion.
In 1997, the film was selected for preservation in the United States National Film Registry by the Library of Congress as being "culturally, historically, or aesthetically significant". It was the first and best known of Engel's three feature films. It was followed by Lovers and Lollipops in 1956 and Weddings and Babies, which was filmed in 1957 and released in 1960. All three films were similar stylistically, and were filmed with hand-held 35 mm. cameras. The cameras used in the first two movies did not record sound, and dialogue was dubbed subsequent to filming. Weddings and Babies was the first fiction feature filmed with a portable camera that allowed synchronized sound. (source: wikipedia.org)