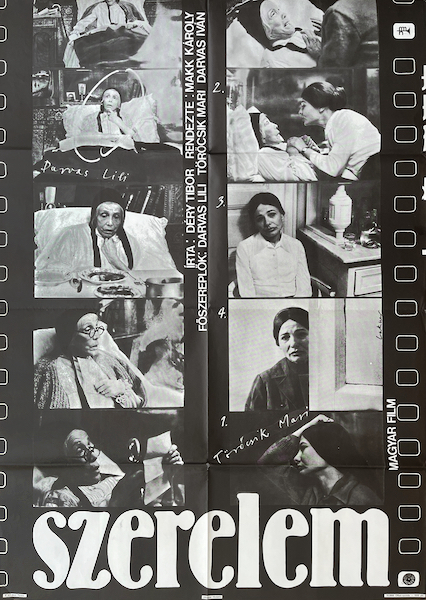 Love
Hungarian title:
Szerelem
Size:
A0 2 Sheet (cca. 116 x 82 cm)
Condition:
Fine, fold marks, light wear, small tears.
Material:
Paper, offset lithography.
Price: US$1200
Description:
Love is a 1970 Hungarian vintage poster designed by Laszlo Lakner.
Love (Hungarian: Szerelem) is a 1971 Hungarian drama film directed by Károly Makk. Based on two short stories by Tibor Déry, Szerelem (1956) and Két asszony (1962), it stars Lili Darvas, Mari Törőcsik and Iván Darvas. The film was selected as the Hungarian entry for the Best Foreign Language Film at the 44th Academy Awards, but was not accepted as a nominee.
Today, Love is considered a classic of world cinema by critics including Derek Malcolm and Roger Ebert. The film was selected for screening as part of the Cannes Classics section at the 2016 Cannes Film Festival. The film was chosen to be part of the New Budapest Twelve, a list of Hungarian films considered the best in 2000.
(source: wikipedia.org)