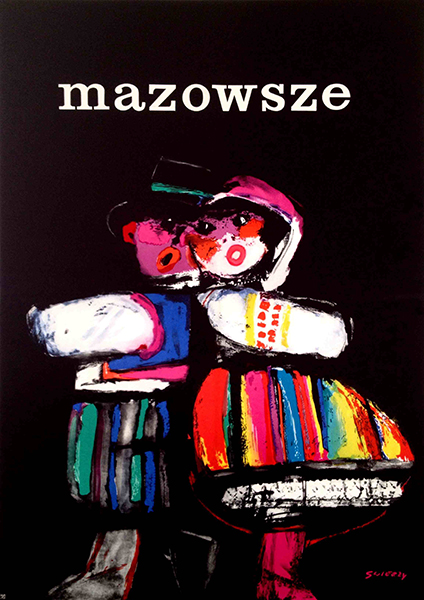 Description:
Poster by Polish artist Waldemar Swierzy, an important artist of the Polish School of Poster.
Swierzy was an influential figure in the Polish poster art. This design of him shows the charqacteristics of the Polish poster: high aesthetic value and strong expressivity. The artists of the Polish School of Posters tended to use rough painting on their designs. Swierzy uses vivid colors on a black background, intensive brushwork and gesture painting. His figures are a bit like dolls, expressing the innocence of folk art and rural people.
Waldemar Swierzy employed unusual concepts with a variety of techniques, frequently mirroring Polish social history from 1950s through 1980s, with a myriad of styles: folk art from the 50s, pop art from the 60s, portraits from the 70s, and TV images from the 80s In addition, his Jazz Greats series of famous American jazz personalities became so well known that he reissued them in his later years as signed lithographs. The series includes: Louis Armstrong, Ray Charles, Jimi Hendrix and Charlie Parker among others. (source: wikipedia.org)
Mazowsze is a very famous Polish folk group established in 1948.