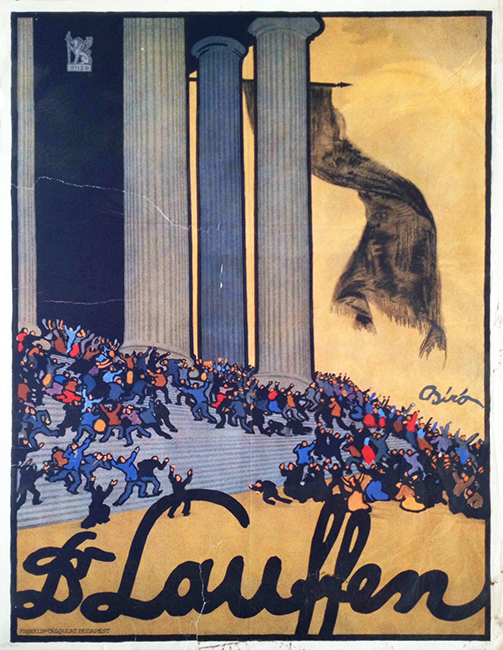 Dr. Lauffen
Hungarian title:
Dr. Lauffen
Size:
Pre-war 2 Sheet (cca. 95 x 126 cm)
Condition:
Fine, restored tears, light creasing, fold marks.
Material:
Paper, stone lithography.
Price: US$12000
Description:
Vintage movie poster by Mihály Biró. The movie was directed by Carl Wilhelm, a prolific German producer and screenwriter of the silent film era, and the film was a Hungarian-German coproduction.

Mihály Biró was one of the early great masters of poster art in Hungary. Biró is internationally considered as the founder of the political poster art, he is world-famous for his revolutionary designs from the 1910s, but he created numerous masterpieces of commercial and cultural poster too. He utilized the possibilities of advertising and communication connected to not only the political movements, but industrial civilization, city culture and new fields of art as well. Cinema was a new genre of art those times and Biró's movie posters pictured the new genre's modernity and innovations with their unexpected foreshortened views and stressed plains.
"Biró's versatility is demonstrated in his imaginative, powerful composition for Dr. Lauffen, 1917 (...) in which the dominant compositional element of architecture plays a symbolic and expressive role, with color and text kept at a minimum. Artists like Biró were quick to adopt the new theories regarding the psychologic effects of form and color formulated by the pioneering psychoanalist Sigmund Freud which were also used in spreading Marxist idealogy."

(The Golden Age of Hungarian Film Posters. 1912-1945. Ernst Gallery, Budapest, 2014.)

The poster itself is monumental, indeed. Not only the highlighted element of architecture, but also the crowd of faceless people flowing on the stairs has its psychological impact on the viewer. Biró employed the dramatic effect of movie scenes in the poster succesfully.