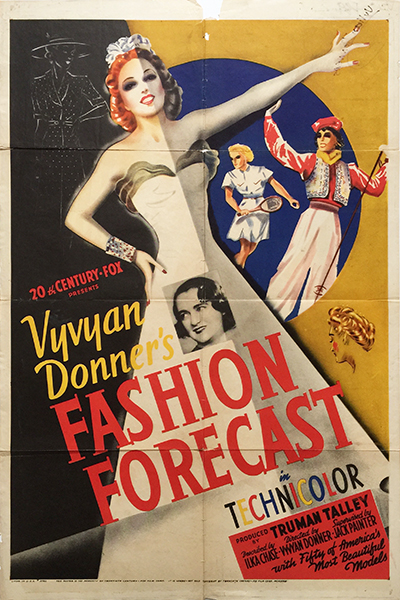 Description:
Vyvyan Donner's Fashion Forecast, the 1939 - 1940 Vyvyan Donner fashion comedy newsreel series by Fox. Vyvyan Donner was born on December 26, 1895 in the USA. She was a director and writer, known for Music of Manhattan (1950), Fashion Forecast No. 6 (1940) and Feminine World 9601: Talented Beauties (1949). She died on June 27, 1965 in New York, USA.
Fashion Forecasts were 20th Century Fox Short Subjects, made between 1935 and 1940:
Fashion Forecast #1: Fall (Vyvyan Donner) c (Technicolor)-(1R)-(DC)-©-Sep 16, 1938 Technicolor fashion reels hosted by Ilka Chase with sometimes humorous narration.
Fashion Forecast #2: Winter (Vyvyan Donner) c (Technicolor)-(1R)-(DC)-©-Dec 23, 1938
Fashion Forecast #3: Spring Styles (Vyvyan Donner) c (Technicolor)-(1R)-(DC)-©-Mar 15, 1939
Fashion Forecast #4 (Vyvyan Donner; narr: Ilka Chase) c (Technicolor)-(1R)-(DC)-Jul 7, 1939
Fashion Forecast #5 (Vyvyan Donner; narr: Ilka Chase) c (Technicolor)-(1R)-(DC)-Sep 15, 1939
Fashion Forecast #6 (Vyvyan Donner; narr: Ilka Chase) c (Technicolor)-10+m-(DC)-Dec 22, 1939
Fashion Forecast #7 (Vyvyan Donner; narr: Ilka Chase) c (Technicolor)-9+m-(DC)-Mar 29, 1940
Fashion Forecast #8 (Vyvyan Donner; narr: Ilka Chase) c (Technicolor)-9+m-(DC)-Jun 21, 1940
A March 31, 1939 article from the Sydney Morning Herald from gives us an impression of the show:
Famous American models as film stars
Ilya Chase, commentator
America's loveliest girls and most famous models will be seen on the screen in Vyvyan Donner's "Fashion Forecast in Technicolor," the 20th Century-Fox film, which will be released in Sydney shortly.
One of America's foremost stage stars, Miss Ilka Chase, is the commentator, who describes the clothes - " the forthcoming styles for women as conceived and created by the leading New York and Paris designers," which are grouped in the various categories: Lace, velvet, wool and silk.
The cast includes Virginia Judd (Art Directors' Choice, most beautiful girl), Jane Davis (Art Directors' Choice, most popular girl), Anita Colby (The Most Beautiful Face), Ruth Starrett (The Most Photographed), Gay Hayden (The Cigarette Advertisement Girl), Margaret Horan (Illustrators' Favourite Model), Evelyn McGuirk (The Poster Girl), Lillian Eggers (The Billboard Girl), Elaine Bassett (The Television Girl), Margaret Johnson (Prettiest Radio Player), Marion Rosamond ("Miss New England"), Jane House (Perfect Bathing suit Figure), and 20 other outstanding girls in art and illustration.
"Listen to Miss Chase reading her part from the script:-
" This fair creature, ladies and gentlemen, is a forecast of what we will soon look like - we hope. She's Ruth Starrett, most photographed of all models, wearing a gown of white chantilly. Not quite so demure from the back as from the front.
Blue and Fuchsia
"You, too, may own this magnificent mink wrap. Just marry a man with a heart of gold and a bankroll to match. Why, she's crazy to take it off, and it is our good luck to see more of the lovely Natasha Dana who wears this blue lace evening gown with fuchsia coloured flowers on the shoulder. The necklace - luscious fake pearls and gold.
"The beige and brown lace is a most feminine and graceful model, especially good in movement. It's worn by Gay Hayden, the girl in the cigarette ads. Her dark hair is an especially happy foil for the jewelled comb and topaz earrings.
"This gay and youthful dinner frock is of black lace with a most engaging neckline. She wears jewelled button earrings and a comb in her high piled hair. Under her chin a pussy-cat bow. The girl is Evelyn Mcguire, seen on many coloured posters.
The Billboard Girl
"Here we have Miss Lillian Eggers, the Billboard Girl, who turns out to be something of a symphony in lace and flowers. Tones of purple and violet are especially good this year.
"This slinky, slithery lady has been poured into this white lace gown by special pourers. They spray hot water over her and use an ice-pick when she wants to get out of it. It's of shadow lace, embroidered in silver cord, over tight shimmering satin. The girls would be Annette Nine, more recently known as "Miss West Virginia."
"Lucille Kopperl demonstrates the zipper glove. Strictly in the gadget class, but good for a laugh.
"Ermine wraps and top hats. Some people say the intermission is the best part of the opera - fashion parade in the foyer - and look at those velvet gowns with their sweeping skirts. Wasn't the tenor marvellous - look at that velvet wrap. The soprano sang the aria beautifully, didn't she? The orchestra was perfect; the conductor superb - do you see that silver fox jacket? Pelts placed horizontally on the sleeves. Oh, I love music.
"For town of country this smart sheared beaver suit worn by Sela Kreds is perfect. The boxy jacket with the lovely shoulders lines is edged with wool, and the pockets are piped with the same material.
"Virginia Radd sports a cloud of flame coloured feathers above the long-forgotten marcel wave. A fashion reminiscent of Lillian Russell and the turn of the century. A red fox wrap, a cloth of gold down, a burst of sunlight on a dark night. If, however, you feel you are more the subdued type, we offer you two little girls in blue both with off-the-shoulders frocks that drip simple charm, and both wandering what are their chances for a dance.
"We end with Elsie Knox, who warns the men if you haven't taken this seriously - you better begin."
This charming Art Deco fashion poster is unique piece of fashion history and and artifact of Hollywood and the 20th Century Fox studio as well.