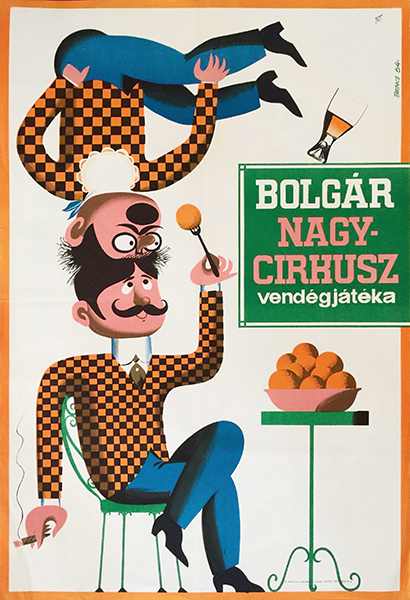 Bulgarian Grand Circus guest performance
Hungarian title:
Bolgár Nagycirkusz vendégjátéka plakát
Size:
A1 1 Sheet (cca. 84 x 59 cm)
Condition:
Fine, light creasing and fold marks.
Price: US$2000
Description:
Spectacular poster for the Budapest performance of th Bulgarian Grand Circus in 1964.
The design was created by Sándor Benkő who was a talented poster artist specialized in circus and movie posters. He always designed cheerful and playful pieces on which he depicted exciting elements of the show with great drawing skills.
On this poster he applied a humorous cartoon-like style, delicate pastel colours and refined drawing. Two man is shown in identical clothes: blue pants and checked shirts. One of them is sitting on a chair, smoking calmly and the other one is upside down, their heads are touching and the one who is sitting is feeding the other one. The simple, white background directs the attenion to the unusual posture of the characters and makes the view curious. The harmony is attained by an almost symmetrical construction, but there is tension caused by the contrast between the calmness of the man sitting and the scared expression of the man on the top who seems to have kicked the glass that's about to fall. This controversion makes the poster even more exciting. The soft shades give the elements a three-dimensional and pleasant look. The typography becomes an organic part of the composition as the block that contains the text serves as a table for the glass.