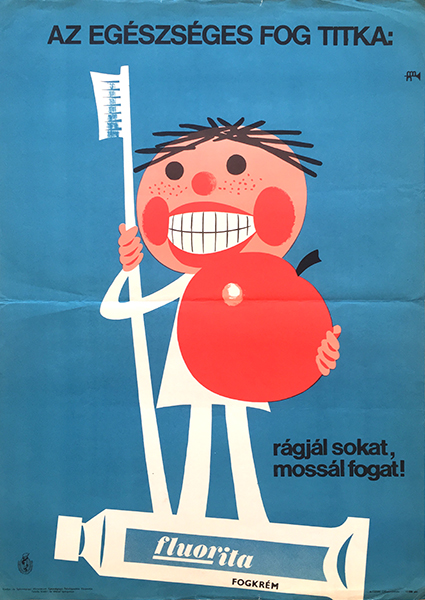 The secret to healthy teeth - Chew a lot and brush your teeth!
Hungarian title:
Az egészséges fog titka - Rágjál sokat, mossál fogat!
Size:
B2 (cca. 70 x 50 cm)
Condition:
Fine, fold marks, creases and tears along the border.
Material:
Paper, offset lithography.
Price: US$1200
Description:
Propaganda poster of the Ministry of Health Care. Its goal was to draw people's attention to the importance to keep their teeth healthy.
In the Socialist era the government put a high emphasis on health propaganda. Many posters aimed at raising awareness of keeping themselves and their environment clean. This particular piece is a fine example of such posters. A cute boy is standing in front of a turquoise background, where the colour itself projects cleanliness. He holds a toothbrush and an apple in his hands and the slogan says: '...chew a lot and brush your teeth!'
Interestingly enough, although the poster was ordered by the Ministry of Health Care, therefore it was not a commercial advertisment, a then existing toothepaste brand, Fluorita, is apparent on it. Probably there was no intention of advertising a certain brand within the frames of health propaganda. It is more likely that since in the Socialist times there wasn't such a great variety of goods, the artist picked one brand which sounded familiar to people so they immediately associated it with brushing their teeth.