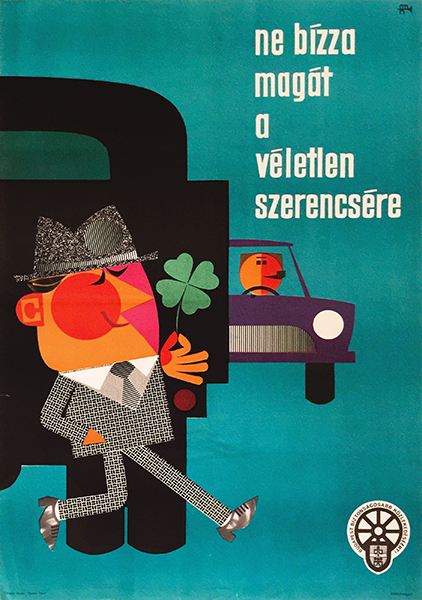 Don't put your fate in the hands of luck
Hungarian title:
Ne bízza magát a véletlen szerencsére
Size:
A1 1 Sheet (cca. 59 x 84 cm)
Condition:
Fine, light fold marks.
Price: US$2400
Description:
Original Hungarian vintage poster from 1966 by Sándor Lengyel.
Due to a slight economic upswing in the 1960s, the number of cars and motors increased and people needed some time to get used to it. In order to prevent accidents resulting from unexpected situations in traffic, numerous propaganda posters were published in relation with the subjects. On this poster a man holds a four-leaf clover, the symbol of luck, when stepping on the road. He is clearly not aware of the car that the viewer sees coming. The driver can't see him either as he is stepping out from behind another vehicle. The artist depicted the moment preceeding an accident to capture the dangers of not paying enough attention to traffic.