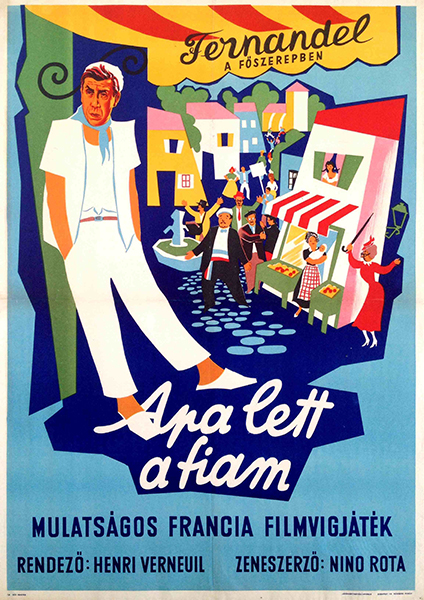 Wild Oat, The
Hungarian title:
Apa lett a fiam
Size:
B2 (cca. 50 x 70 cm)
Condition:
Fine, light fold marks and wear.
Material:
Paper, offset lithography.
Price: US$800
Description:
Poster of a French comedy. The original title is: Le boulanger de Valorgue.
Decorative and colorful movie poster from the 195's. The poster was made in the middle of the dark Socialist Realist period, however it shows a very fresh and artistic design. In the middle, a pictoresque image appears, showing a charming French village. In the foreground stands a lonely baker, thinking. His face is represented with a detailed drawing, evoking the style of the movie posters of the 1930s and 1940s. However the whole composition is rather modern. The design is spectacular: the colors are very intensive, appearing in big flat shapes.
In the movie, a small village is torn apart by a quarrel between the baker and the italian grocery tenant, mother of a pregnant young girl. She accuses the baker's son, doing his military service in Algeria, to be the father of the would be child. Offended, the baker refuses to deliver bread to the villagers standing on the mother's side. (source:imdb.com)