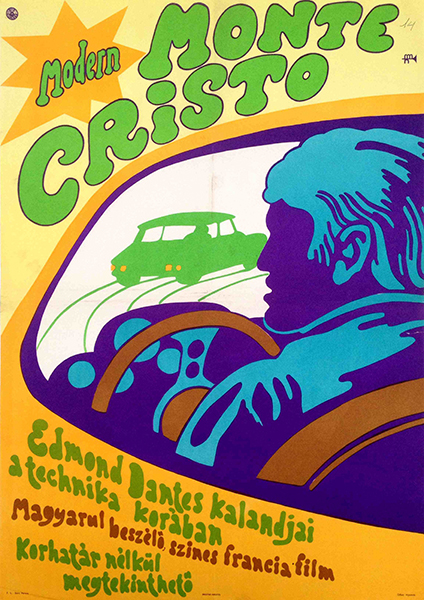 Return of Monte Cristo, The
Hungarian title:
Modern Monte Cristo
Size:
A1 1 Sheet (cca. 84 x 59 cm)
Condition:
Fine, light fold marks and wear, small tears.
Material:
Paper, offset lithography.
Price: US$2000
Description:
Pop Art style poster of the French movie, the Return of Monte Cristo, The original title is: Sous le signe de Monte-Cristo. The Hungarian title suggests that the famous story takes place in the modern era.
Árpád Darvas created a fresh modern design for the renewed story. He was one of the firsts to introduce Pop Art to Hungarian art. Darvas could creatively use the influence of American Pop Art painters in poster design; his posters worked as visual bombs in the "greyness of socialism". The colors are very intense, the painting of the script is loose and spontaneous. The composition resembles comic strips.
The film is about the adventures of Edmunt Dantes, who always gets into trouble. It seems that he uses the same method to get out of trouble in each cases: he organizes his own death. Eventually it always turns out that he is not dead at all, he just does everything that he can to finally be together with his love.