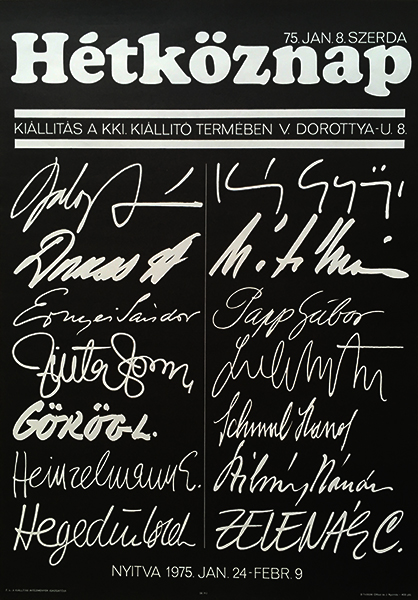 Weekday
Hungarian title:
Hétköznap
Size:
B2 (cca. 70 x 50 cm)
Material:
Paper, offset lithography.
Price: US$240
Description:
Event poster for an exhibition held in the Institutuion of Cultural Affairs in Budapest, 5th district. The title of the exhibition was "Weekdays".
The design of the poster is very simple. The names of the exhibiting artists are presented in white in front of a black background. Each name is indicated by the signature of the artists. The artists on the poster are: Crescencia Zelenák, Nándor Szilvásy, Károly Schmal, István Kulinyi, Gábor Papp, András Máté, György Kemény, István Hegedűs, Emma Heinzelmann, Lajos Görög, József Finta, Sándor Ernyei, Árpád Darvas, István Balogh. These artists were the members of the famous Papp Group which organized exhibitions yearly at this venue. These exhibitions presented various styles of graphic arts to raise the attention to the practical use of quality graphic design.
The poster was designed by Gábor Papp and Nándor Szilvásy.