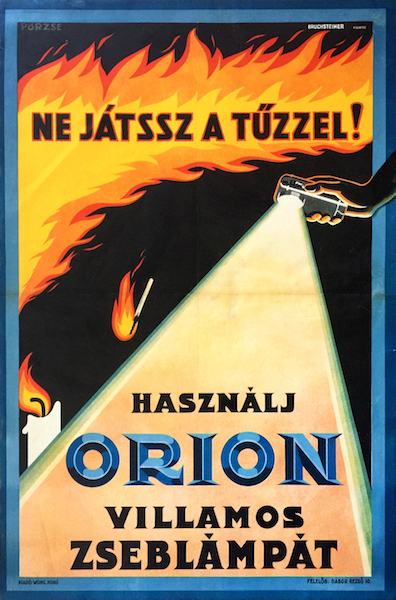 Don't play with fire! Use Orion electric flashlight!
Hungarian title:
Ne játssz a tűzzel! Használj Orion villamos zseblámpát!
Size:
Pre-war 1 Sheet (cca. 95 x 63 cm)
Condition:
Very good, restored, backed on linen. Restoration is a bit weary.
Material:
Paper, stone lithography.
Price: US$4000
Description:
Don't play with fire! Use Orion electric flashlight! is a 1938 vintage Hungarian advertising poster designed by Lajos Porzse. It was designed for Orion which was a successful Hungarian company.
The Orion factory produced electronic devices, mostly lamps and radios. The ancestor of the company was founded in 1913 by an Austrian businessman, János Kremenczky and was originally called 'Hungarian Wolfram Lamp Factory'. Some years later several other smaller factories joined, and from 1924 the company changed its name to 'Orion Electronic Joint Stock Company'. The brand soon became popular, it was well-known and sought after in foreign countries as well, from 1930. In 1934 the 90% of Orion radios were already being sold in abroad. In the 1940s Orion was responsible for the 25-30% of the world's radio export. In the 1960s Orion started producing the first color televisions in Hungary.
Besides tv-s and radios, the company was making a variety of electronic devices, such as flaslights. This poster is an early example of the flaslight advertisements of the company. Flashlight became an everyday item by the early 1920s.
The poster is a nice art deco design, it uses a very elegant typography for the trademark's name. In front of a black background a candle and matches can be seen on the left, and a wide fireball at the top, with the text: 'Don't play with fire!' A hand holds a flaslight on the right and the text appears in the trail of light: 'Use Orion electronic flaslight'. The poster's message is quite didactic, which gives a humorous attitude. At the same time, the colours and the composition make the design spectacular.