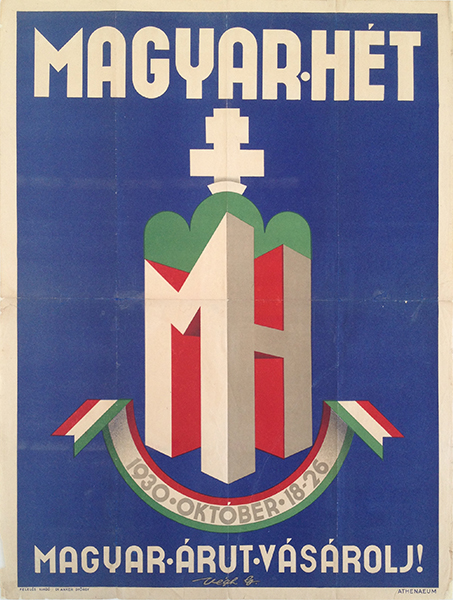 Hungarian Week 1930
Hungarian title:
Magyar Hét 1930
Size:
Pre-war 1/2 Sheet (cca. 48 x 63 cm)
Condition:
Fine, fold marks, paper loss along the edges in the white area, not affecting the image.
Material:
Paper, stone lithography.
Price: US$2400
Description:
Spectacular poster from the 1930s, created by Gusztáv Végh.
Végh was an influential character in the field of commercial design for many decades, between the 1910s and the 1950s. In the mid-1920s the clear Modernism and the decorative and playful Art Deco both influenced his works, this piece also reflects the fact that he combined the constructivist-modernist attitude with Art Deco shapes.
This work was created for the "Hungarian Week" which motivated Hungarian inhabitants to buy local goods and products, so it was aimed to boost Hungarian industry. The event was held from the 18th until the 26th of October in 1930.
The design is a clear composition. At the centre of it, the M and H letters from the Hungarian words for Hungarian Week (Magyar Hét) are combined in an exciting perspective, creating a three-dimensional effect. On the top of the letters three green hills and a white double cross can be seen, which is a reference to the Hungarian coat of arms. The sinister (the right side) of the coat of arms contains the famous Hungarian symbols: the three hills represent the mountain ranges, the trimount of Tátra, Mátra and Fátra. The wide, white double cross of the poster refers to the thinner, silver double cross, situated in a golden crown, as it appears in the coat of arms. The double cross was considered to have been given to the first Hungarian king, Stephen I, by the pope as the symbol of the apostolic Kingdom of Hungary. However, the most accepted theory today is that it derives from Byzantine influence, as the cross appeared around 1190 during the reign of Béla III, who was raised in the Byzantine court.
The white letters of M and H with red sides, the green little hills and the white double cross not only imply Hungarian symbols, but they are also portrayed in the national colours. The date of the event is signed in a national flag below, and the subtitle says: 'Buy Hungarian products!'
The poster is a fine piece of colourful and concentrated compositions of commercial poster design of the era.