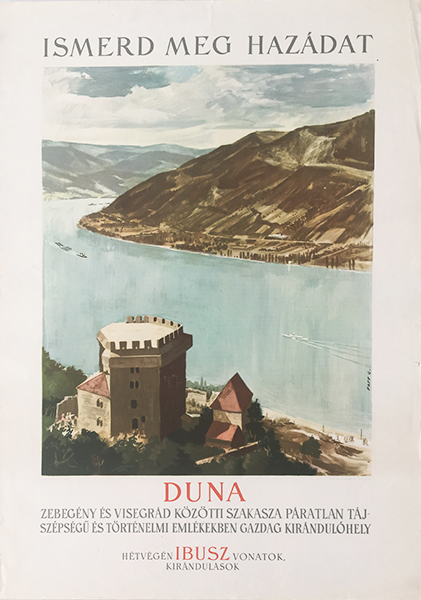 Discover your country - The Danube Bend - IBUSZ travel agency
Hungarian title:
Ismerd meg hazádat - Duna - IBUSZ
Size:
A1 1 Sheet (cca. 84 x 59 cm)
Condition:
Fine, light wear, a few small tears.
Material:
Paper, offset lithography.
Price: US$1200
Description:
Discover your country - Danube is a 1958 vintage Hungarian travel poster desigend by Gabor Papp.
The text on it says: 'Get to know your country'. The section of the river between Zebegény and Visegrád offers an exquisite landscape and is a great hiking destination that is rich in historical sites. Besides advertsing the site itself the poster also promotes IBUSZ, as it informs people that the IBUSZ trains are also available for traveling on the weekends. IBUSZ is an abbreviation for Idegenforgalmi Beszerzési Utazási és Szállítási Rt., that is, Tourism Procurement Travel and Transport PLC. in English. The company was established in 1902 and was nationalized in 1949. After 1956 IBUSZ started to organize travels to abroad and at the same time its monopoly ceased as many other travel agencies were born. Hence, it was wise to advertise.
This advertisement pictures the beautiful sight of the tourist destination describe below the picture. It was designed by Gábor Papp, one of the most important Hungarian poster artists, however this piece is quite an atypical one of his. Hi works can easily be identified because they are geometric, constructivist and very typography oriented. This particular one is nothing like that, but is still a very decorative piece.