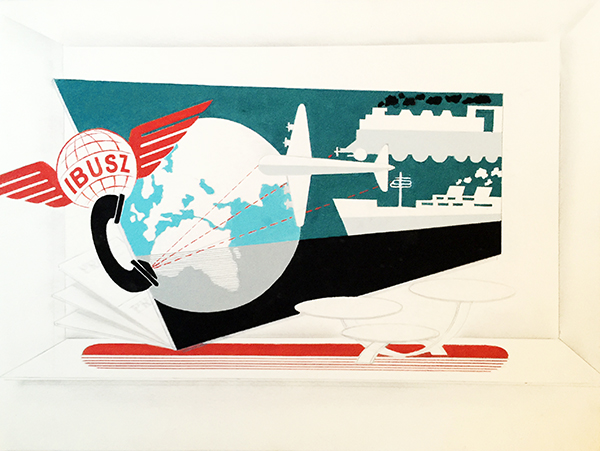 IBUSZ store window concept design
Hungarian title:
IBUSZ kirakatterv
Size:
B4 (cca. 35 x 25 cm)
Material:
Paint on cardboard.
Price: US$1200
Description:
This lovely design from the 1930s – 1940s was created as a window concept for the Hungarian national bus company, called 'IBUSZ'. IBUSZ is an abbreviation of 'Idegenforgalmi Beszerzési Utazási és Szállítási Rt.' (Tourism Procurement Travel and Transport PLC.). The company was established in 1902 and soon became very popular. The company was dealing with several means of transportation and many branch of tourism industry, which this window concept design perfectly represents. It is a modern composition with vehicles typically used by the company, at the same time, representing the variety of its transportation service. A stylized motif of a plain, a train, a ship can be seen in white with the Earth and the logo of IBUSZ (a white globe with the companies name and red wings), connected together by a black telephone receiver whose rays reaches each of them. All of this can be seen from a modernist environment of an interior design with some elegant furniture. Although the design reflects elegance, still it has a sort of light-hearted character.
The creator artist of this design was István Rottler, a popular graphic designer of the era. He created a plenty of miniature commercial design works for companies selling grocery, cosmetics and others. Many packaging design of everyday products of the time like teabags, liqueurs, egg-brandies, coffee creams, soaps, etc. can be linked to his name. However, it is possible that sometimes different, mysterious or even a bit more bigger-scale designs, like this window concept design, can appear from his past.