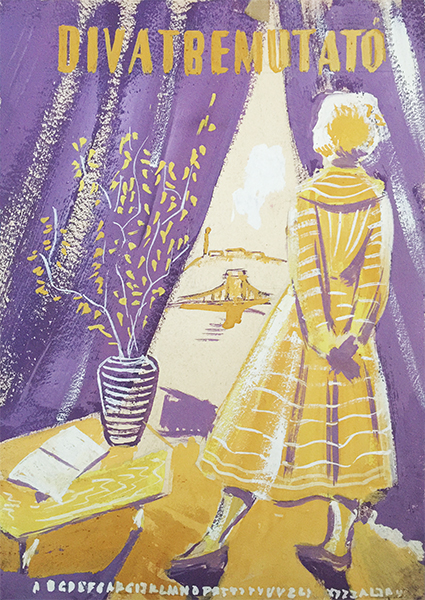 Fashion Show in Budapest
Hungarian title:
Divatbemutató Budapesten
Size:
A4 (cca. 29 x 21 cm)
Condition:
Fine, light wear.
Material:
Paint on cardboard.
Price: US$1000
Description:
This poster mockup was created by Lajos Vajda, a poster artist who was mostly active from the 1950s until the 1970s. From 1951 Vajda was the graphic artist of Magyar Hirdető (Hungarian Advertising Agency), and later he became the leading artist of it. He designed numerous movie posters with a humorous style popular during the 1960s and the 1970s. Besides, he was also frequently commissioned for commercial and exhibition posters.
This artwork was created for a fashion show in the 1950s. It is a painted composition using purple and yellow shades, with a figure standing in a long dress and in high-heel shoes, backwards to the viewer while looking out the window. The interior design of the location contains a side-table with a vase and an opened book on the top, a yellow floor and long purple curtains. The background shows the scenery of the Danube with the Chain Bridge and the Hungarian Liberty Statue in Budapest. The design is a cheerful, colourful piece, applying an expressive portrayal which was more likely in the second part of the decade in Hungary.