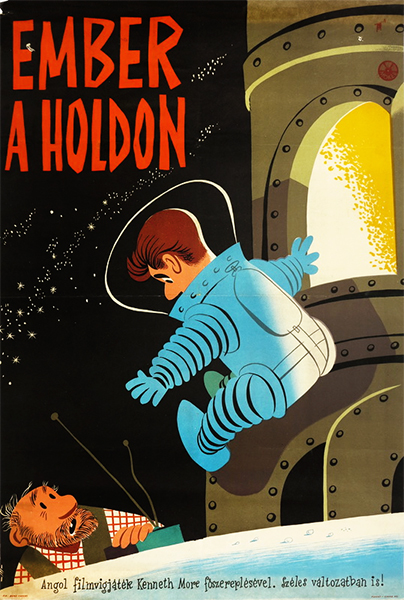 Man in the Moon
Hungarian title:
Ember a Holdon
Size:
A1 1 Sheet (cca. 84 x 59 cm)
Condition:
Very good, fold marks, small paper loss, two holes, discolouration.
Price: US$1000
Description:
Man in the Moon is a 1960 comedy film directed by Basil Dearden. The film stars Kenneth More and Shirley Anne Field.
William Blood (More) is a man who appears to be immune to all known diseases, and possesses extraordinary resistance to heat and cold – a fact he puts down to his carefree, single life, never being worried by anything. He makes a living working for medical researchers who are trying to find cures for various diseases and conditions (notably the common cold and seasickness). Blood is offered a job to become the passenger of a high altitude test flight by Dr Davidson (Hordern), but the real job is to become the first man to land on the Moon.The truth is kept from him because of the danger involved. He undertakes training with three other potential astronauts (including Gray), all of which are more qualified for the job but do not possess his extraordinary resistances. Blood never really fits in with the others and, when a £100,000 reward is posted for the first man to land on the Moon, they seek to sabotage his chances and have one of their number selected instead. When Blood meets and falls in love with an attractive stripper named Polly (Field), he begins to lose his immunity. (source: wikipedia.org)
Original vintage first release Hungarian movie poster designed in the popular cartoon like style of the 1960s. It is a very lovely piece where we see the figure of the astronaut getting out from his spaceship and the surprised face of another man.