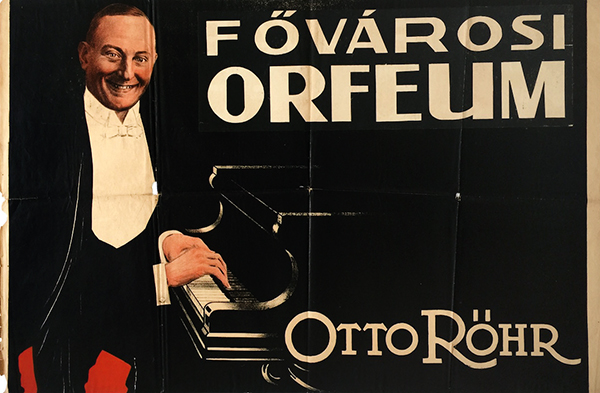 Capitol Music Hall - Otto Roehr
Hungarian title:
Fővárosi Orfeum - Otto Röhr
Size:
Pre-war 1 Sheet (cca. 95 x 63 cm)
Condition:
Very good, fold marks, small tears and some separation along fold lines and paper loss.
Material:
Paper, stone lithography.
Price: US$2000
Description:
Original Hungarian vintage theater poster from 1918.
Otto Roehr was a German pianist. The poster promotes his performance in Budapest at the Capitol Music Hall.
Roehr was born on November 9, 1880 in Berlin and soon distinguished himself by a natural talent for music. Since he also had a cheerful temperament, he embarked on the career of the piano humorist, who accompanied his own lecture itself. He orientated himself in his style of lecturing at the vaudeville, but especially at Ernst von Wolzogen's "Überbrettl".
As early as 1905 he has recordings before, which refer in the style of the couplets with their verses summarizing the verses concise refrain lines to Otto Reutter. Likewise, his style influenced the humorous songs of an Oscar Straus and Berlin cabaret.
His original couplets were also sung by other well-known cabaret artists such as the tenor Ludwig Arno.
In the First World War Roehr appeared before interned Germans in Switzerland. As a gramophone artist he wrote at that time but also patriotic war humor in "patriotic" Potpourris. Between 1916 and 1918, the artist stayed in Zurich and Bern, then in Vienna.
Posters from the period around 1919 document performances by Roehr in the Berlin Metropolitan Cabaret of Alex Braune in the Behrenstraße and in the Kammer-Brettl in the Admiralspalast under the direction of Rudolf Nelson. (source: wikipedia.org)
The poster promotes his performance in the Royal Orpheum. Royal Orfeum opened in 1908 and was one of the emblematic venues of the vivid nightlife of Budapest at the time what is said to be the most quality and the biggest varieté until 1933, the year when it transformed to an Operetta Theater and Cabaret.