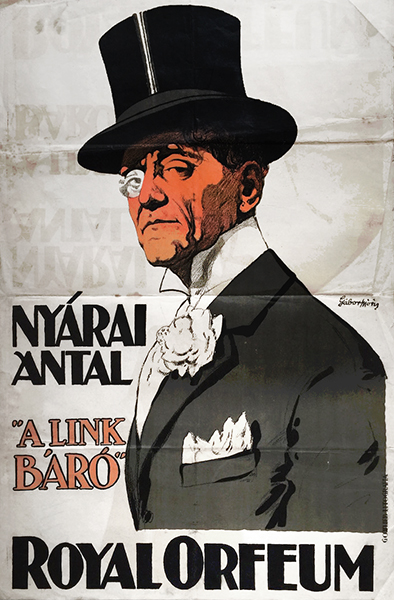 Description:
Original Hungarian vintage theater poster fron 1915 by Gábor Móric.
Móric Gábor (1889 - 1987) was a painter and graphic designer. He attended the University of Fine Art from 1906 as the student of Bertalan Székely, Ede Balló and Merse Pál Színyei. He also studied in Paris, Italy, Austria and Germany and worked in the USA or in the Netherlands where he mostly painted portraits. He returned to Hungary where he stayed until his death. He painted classic, realist portraits, stills, landscapes, etc., with moderate colours in most cases. He rarely created posters.
This piece promotes a play starring Antal Nyárai who was an actor at the time of the Royal Orfeum. Royal Orfeum opened in 1908 and was one of the emblematic venues of the vivid nightlife of Budapest at the time what is said to be the most quality and the biggest varieté until 1933, the year when it transformed to an Operetta Theater and Cabaret.
Looking at this composition it is very clear that its author was a painter who had a great expertise in painting portraits. The position of the figure is classical of portrait compositions. His face is detailed, his posture and outfit is very elegant as well as the grey and white colours of the image. The artist depicted the main character's true nature with just a small but important detail: the eye behind his monocle is grey and frivolous. It is clear: all that glitters is not gold. Gábor was able to express a complex personality with just one, simple image.