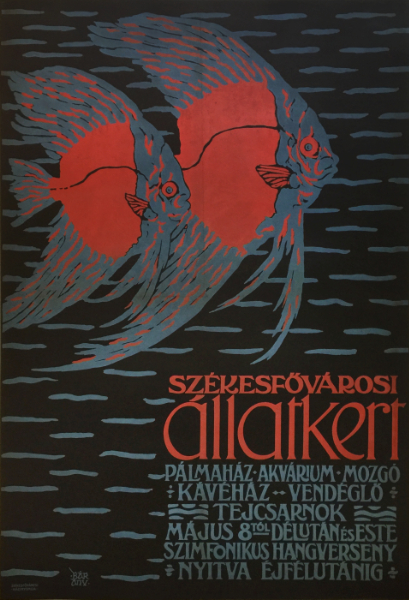 Description:
This beautiful Art Noveau poster advertises the Zoo of Budapest. With an impressive image of fish, the poster promotes the aquarium in particular. The composition is built upon the intensive contrast of blue and orange colours, which appear inn front of a black background. The script is very elegant, and it is just as important part of the composition as the drawing. The design carries the influences of English and French Art Noveau, and Japonism.
Nándor Bárány (1882-1913) the designer of this poster was a typographer, pressman and a graphic artist had outstanding talent in graphic design and typography, but he died at a very young age leaving behind only a few known works. Initially he was working and learning the crafts of printing at the Athenaeum Printing House; meanwhile he finished studies at the School for Applied Arts. Later he went to London to study old printing techniques. Coming home he started a career as a teacher at the same art school, besides producing fine works. He had innovative advertising designs, such as the renovation of the art of drop caps.
Bárány's Zoo poster design won the first prize at a tender by the famous Budapest Zoo. The zoo had many impressive posters during its long history (including the design of Mihály Biró), and this is among the bests.